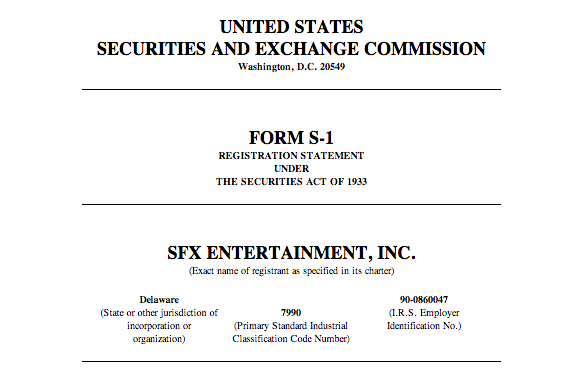 Most of you are familiar with the promoter "Disco" Donnie Estopinal, who was the first electronic music promoter to "sell out" to a larger business – in his case, to Robert F.X. Sillerman's newly reformulated SFX Entertainment. Disco Donnie had a tumultuous past fighting for the legitimacy and reception of the dance scene in America. Through directly opposing (and ultimately defeating) the "Crack House Law" of the 2000's (an attempt by government officials to deem promoters responsible for drug activity happening at their events) he cleared the path for more promoters to populate the dance music field without fear of reprisal from law enforcement agencies for happenings at their events. Which we are all extremely thankful for. However, Disco Donnie's sell out to SFX, given his strong passions and roots in the community, shocked many a fan back in June of last year. Our scene is going from the underground and breaking its way into the forefront of the business world, and Billboard featured a pretty in-depth article covering the pending initial public offering (IPO) of SFX Entertainment, while looking at the dance music scene as an industry.

With an IPO just weeks away, 65 year-old Sillerman is on the verge of betting the house on electronic music with his unveiling of SFX's EDM-infused future and its estimated $175 Million initial offering. We will just have to wait and see how Wall Street and its Investors feel about the EDM's potential market share and long-term profitability. Their responses should be interesting to see, regardless of the outcome.
Disco Donnie was not the only big-time promoter to take partnership with a larger already-established events group. One of our favorites, Pasquale Rotella, penned a $50 Million deal with Live Nation…despite the fact that Rotella has ensured the headliners that the vibe and the way Insomniac handles events will not be commercialized, yet he mentioned that it will add to the production capabilities and create a better show for all involved in regards to Insomniac's events. Hopefully this type of synergistic relationship will be the norm for collaborations of these types of ventures in the future, but this remains to be seen.
Speaking specifically of SFX, it has acquired other EDM-staples such as Beatport, Life In Color and Dutch event producer ID&T. Another big spender, Ron Burkle and his company Yucaipa is backing former Pacha director Danny Whittle's new Ibiza project including a nightclub and a collective DJ working facility. Then, there is the Ultra Music/Sony Music power-couple formulation as well. It seems lately that partnerships in the electronic music business are becoming (almost) as important as the friendships fans form while attending the events themselves.
As far as the IPO, SFX expects to raise $175 Million from it. There are heavier expectations both from SFX and from Wall Street itself because of retail investor and Wall Street enthusiasm "in paper evaluation terms" in regards to stocks that offer the ability to tap into youth culture and Internet trends. Billboard speculated that the nearest closest stock is Live Nation. However, despite the fact that both SFX and Live Nation would be considered live music entertainment, Billboard states that fundamentally they are different businesses. Live Nation is a considered a mature business with slim profitability margins in regards to its ticketing price frames. SFX is a start-up (and will be considered so until around 2015), but is primarily focusing on the music festival world (as opposed to concerts with diva rock star $$ to be paid to singular performers) that traditionally have much higher profit margins in the long run.  Rich Tullo, an equity analyst at Albert Fried & Co. believes that investor interest in SFX is contingent on whether or not it is perceived that EDM is a fleeting fad. "Competition is pretty much wide open," he muses about the business openings in the music entertainment field.
The battle of the superpower conglomerations are in full swing in the EDM world: ID&T/SFX vs. Insomniac/Live Nation. Only time will tell how both of these conglomerations choose to move their respective entities forward (or how successful those combinations will prove to be). However Sillerman has stated that his goal is something bigger than that of its parts: that he wants to form "a network of media opportunities that amount to a global youth marketing platform, framed around EDM – or as SFX refers to it: EMC (Electronic Music Culture)." The high level goal: corporate sponsorship. SFX Vice Chairman Shelly Finkel has been doing many initial reach-outs to many EDM-themed companies. "If you ever owned an entity that might have anything to do with electronic dance music, you will get the Finkel call," states a former magazine publisher who had received one of these calls in the past.
Basically, the business side of SFX is a diversified platform that is looking for a few large sponsors that could "drop one large check to reach its youth market internationally." Like previously mentioned in prior articles, EDM is one of the few cultural phenomena to reach a global crowd. This really whets the appetite of potential investors. So-called "millennials" (the name given to the youth generation of today) tend to be extremely hard to connect to, and tapping a possible aggregated source like EDM to reach this  crowd en masse is extremely appealing and definitely in the scope of what those looking to capitalize on this IPO are banking on.
"When we look to [music] partners, it tends to be one of the problems that it's so disaggregated. It's very localized, very artist specific," states global product director of Starcom MediaVest Group's Human Experience Center Emma Montgomery. WPP CEO Marin Sorrell explains why he has taken stake in SFX in that "we can help bring this valuable audience to our agencies' global clients." Basically, SFX's marketing strategy boils down to this: sell a media/sponsorship angle firstly, and a music/live event business secondly. Montgomery continues that in EDM/EMC "brands can find a natural and authentic way to be invited into the culture through community, which is better than slapping their sponsorship logo on it. I think it's really smart." Ideally, this could be a new start of how businesses choose to view their audiences – that they can create a synergistic relationship as opposed to a one-sided bombardment of ads and information on unsuspecting consumers…but only time will tell; I tend to try and be as optimistic as possible.
Billboard continues on that SFX has its hurdles to clear in upcoming months. The fact is that they are currently operating at a loss, and counting on the cash flow of its recent acquisitions to keep them solvent. Additionally, tickets are still available for the massive festival TomorrowWorld in Georgia this year. While initially counting on a fairly quick sellout, a lower turnout could significantly affect SFX's upcoming IPO, as well as future investor confidence in "Electronic Music Culture." As someone who is seriously thinking about the benefits and possible financial windfalls of getting in on this IPO early, I urge you to read Billboard's article in full, as there is much more in-depth financial info than I chose to touch on here.
Thus ends today's EDM business section.