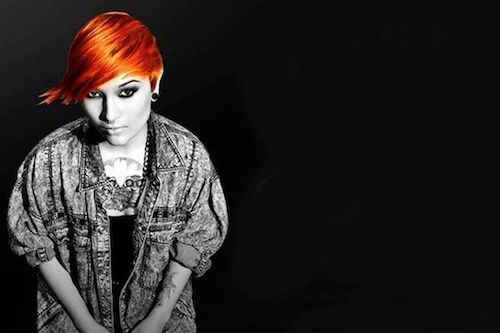 Maya Jane Coles – Comfort
Genre: Deep House/Tech House | Label: I/AM/ME | Release Date: July 1, 2013
UK based DJ/producer, Maya Jane Coles, is best described as a modern day Renaissance woman of the dance music industry.  Her critically acclaimed productions and DJ sets speak volumes about her talent and well deserved praise.  The lush soundscape that is her debut artist album, Comfort, further solidifies her expansive versatility and uncompromising artistry.  Not only did she produce and mix the whole album in her London apartment, she laid down her icy vocals, created the gothic album art, and released it on her own record label, I/AM/ME.  I've had the pleasure of dissecting this piece of art for the past week and can safely say that I've fully experienced the album in its entirety.  Comfort commands time and undivided attention from its listener because it's not a compilation of singles that you can just skim through.  Rather, it's masterfully layered audio porn that needs to be explored as a whole.
Comfort is a departure from previous E.P.'s such as Humming Bird or Don't Put Me In a Box and is not tailored for the clubs.  It's a somber, downtempo piece reminiscent of Portishead or Massive Attack with signature MJC bass lines.  The atmospheric moodiness is appropriately intimate for a smokey lounge yet resonant to the point of haunting. The album opener and title track "Comfort" sets a dark backroom tone with an echoing Spanish guitar and ghostly vocals that foreshadow electronic pop undertones with a melancholic twist.  Maya's earlier hip hop turned trip hop influences can be clearly heard in tracks like "Dreamer" and collaboration with the whispering Tricky, "Wait For You".  There are also other stellar collaborations on the album, such as "Everything" with Swedish Karin Park, the bluesy "Blame" with Nadine Shah, and R&B infused "When I'm in Love" with Thomas Knights.  The amount of vocal tracks on the album add another dimension to MJC's usual repertoire of instrumentals and highlights her talent of creating hypnotic melodies.
Once explored as a whole, one gets the sense that MJC is telling a story of finding comfort and taking you on that personal journey with beautifully arranged sound.  Down to the little details of chirping birds and random conversation chatter in the background, Coles has successfully created a complex yet harmonized world that offers something new and fresh with each listen.  In the current state of formulaic singles and an increasingly homogenized sound of the mainstream, the debut album is a welcomed comfort for those in search of a deeper sound.  Take the journey and purchase the album on Beatport.