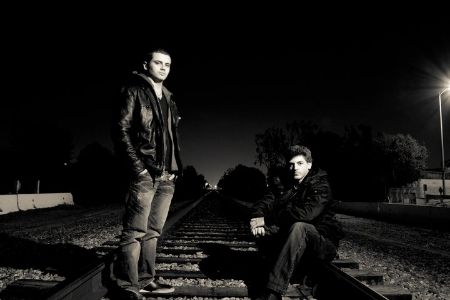 Memorial day weekend started on Thursday night. Los Angeles based DJ duo Mind Funk would have blown the roof off of Playhouse nightclub in Hollywood, if the upstairs electronic dance room had one. From about midnight to close Mind Funk played an incredible set that could easily rival that of today's top DJs. They are relative newcomers to the scene but already they are playing in some of the city's top venues; Mind Funk have several gigs at Exchange LA under their belt, a club that boasts LA's best electronic music events. And really, they're still just starting out.
Mind Funk got started out through a chance meeting amongst mutual friends of the duo. " We realized we would make a pretty powerful team if we worked together," says Felix re-telling a brief anecdote on how they started out. Of course it takes a lot more than a little bit of luck to try and make it as a growing artist in Los Angeles. "We strive to be different, whether it be our performance or the music we make. We work countless hours, knowing that pushing a couple buttons won't really get anywhere far," he elaborates upon being prompted a question on what it's like trying to make a dent in LA's music scene. Although they've been playing several gigs recently, Laurence makes a point about the kind of work they're putting into the project. "More importantly than the clubs, however, we are working nonstop on new music. We just released a 2 track EP that we are really happy with."
A preview of one of the tracks from their EP can be found at the bottom of this article. An original mix with a quirky title, 'Bug Powder' is a solid house track passionately crafted by Mind Funk. "We like to listen to everything, that's why our style is unique. We throw in a little from every genre," says Laurence before citing such artists as Fedde le Grand, Hardwell, Markus Schulz, and many others as being influential to the duo (he really listed more than a dozen names, lauding the DJing skill and productions of these artists). "We search and listen to music almost every day and almost all the time we manage to find something that's a tad bit new or different,' writes Felix. If you follow the duo to their SoundCloud page, you can listen to a preview of 'Carried Away,' the second track off their upcoming EP.
Unlike the previous track, 'Carried Away' features a melodic vocal that really blends more than it pierces the beat, resulting in a harmonious overall sound that will aptly carry the listener away to musical utopia. And because we can hardly go a day here in the electronic music world without hearing something new about the ever elusive Daft Punk, I asked Mind Funk for their thoughts on the French artists. "Daft Punk was a huge influence of ours growing up. The things they did with synthesizers, vocoders, and samples at the time was unheard of and completely revolutionized dance music…. but their style has really changed over these past 7 years or so. The album was reminiscent of 70's disco classics," is Laurence's response.
This year is proving to be a pivotal moment for Mind Funk. Having completed their two track EP, which will be fully released soon, they are already working on a 4-track EP that will be done sometime before 2013 comes to a close. "We feel like this year is going to be our break through year and can't wait to show you guys what we are cooking up in the lab," they say and it certainly feels that way so far.