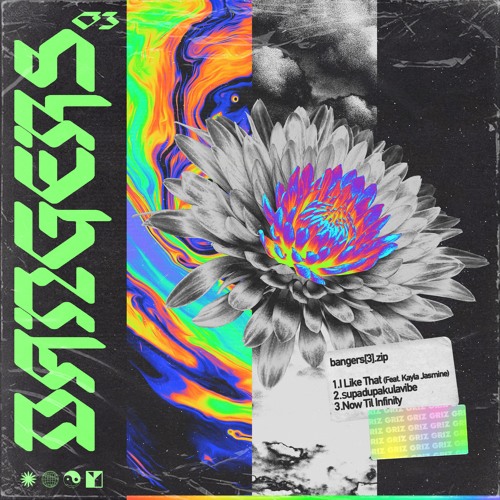 GRiZ – Bangers[3].Zip
With yet another set of three tracks in a bundle, GRiZ unleashed 'Bangers[3].Zip' trailing the first two iterations. On the release, the opening track 'I Like That' which features Kayla Jasmine's vocals. After that point, 'supadupakulavibe' and 'Now Til Infinity' take over bringing the collection to an end. On the EP itself, GRiZ noted;
"As we get ready to head out on tour next week, I wanted to give you guys these tunes that have been my secret weapons all summer long. I hope you fall in love with them, and I can't wait to share their energy with you in person <3 you've really gotta be there to feel it."
'I Like That' launches 'Bangers[3].Zip' packing quite a punch. As it starts with airy and light pads, the production takes its twist once Kayla's voice kicks in. From that point, the dub-inspiration becomes vital to the overall sound which conjoins with the hip-hop touch. Announcing the release of the EP, GRiZ shared a video lead by the song.
Directing attention to the upcoming 'Supadupakulavibe' and 'Now Til Infinity', GRiZ takes a more signature approach. Immediately, you'll be hit with more energy whether it's coming through the vocals or gripping guitars. Noticeably, the closing track nods to some nostalgia by implementing a vintage sound. The catchy production bundled with the upbeat energy combines for a memorable closer.
Beyond the EP, GRiZ is heading off for his second season of the Ride Waves tour. Throughout, be certain that you'll get to hear some of his works from any of the 'Bangers.Zip' EPs. Hitting the road, you can find his schedule and buy your tickets from the link here.
Separate from all that's mentioned, GRiZ teamed up with DrLupo who is one of the world's top Fortnite streamers. On the Twitch stream, the duo raised over $18,000 in the benefit of The Trevor Project.
GRiZ – Bangers[3].Zip