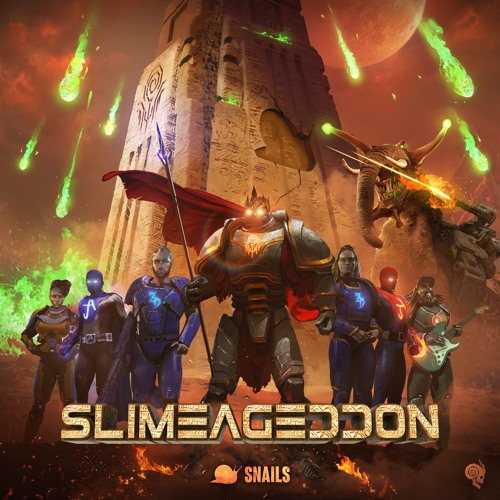 Snails – SLIMEAGEDDON EP
The comic book vision of the eclectic Snails is finally coming to life. As part of his roll out, today sees the highly awaited release of his SLIMEAGEDDON EP. The 7-track album comes to fruition through his very own Slugz Music label. After teasing and releasing tracks over the past few months, we now have the full shell-blast to the face.
Snails has been putting out bits and pieces of his masterpiece to the public. He has been saying how it's all part of a larger vision of his comic book persona. As we can see via his social media, he is all too pumped to share his creation with us:
The SLIMEAGEDDON EP is finally out now on @SLUGZMUSIC!! I got to work on this EP with some of my best friends/ biggest inspirations. So happy to finally show the world!!

👉 https://t.co/z3haq1VQK0 pic.twitter.com/SELiLZjL6n

— SLIMEAGEDDON EP IS OUT NOW (@snailmusic) December 7, 2018
The SLIMEAGEDOON EP comes on the heels of his massive comic book roll out plan. We learned of his series "The Sluggernaut" back in November. Four of the tracks we have already been lucky enough to hear. His collaboration with Wooli 'Snailephant' is an epic arena moment contained in one song. His comic book teammates Adventure Club are also featured in their track 'Follow Me' with Sara Diamond. The vocal-driven track combines the uptempo sound of AC with the patented soul-crushing Vomitstep of Snails.
Of the seven total tracks, there are three brand new releases. 'RAVN' is the massive opening to the EP. A percussion-laden track with heavy bass elements, it provides a powerful start to the album. From there, Snails does not relent. His track 'Crank Bass' features the scorching vocals of Liam Cormier of the Cancer Bats. The track combines his sound with heavy meal influences to create a truly unique combo. The final new release is 'Bonkers' featuring Sirah, which delves back into the sound we have come to know and love from Snails. Sickening bass lines combine with intricate synth work to provide a truly grimy experience.
Full of evolution and heart, Snails SLIMEAGEDDON EP shows why he is climbing the ranks in a genre of his own. While there may be imitators, there is only one true Snails.
Checkout the full Snails SLIMEAGEDDON EP below on Spotify.