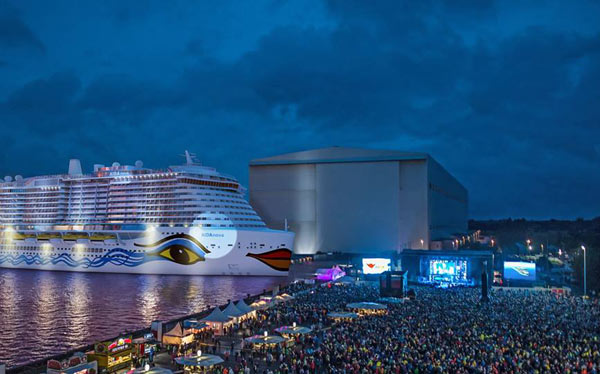 The legendary David Ghetta has performed on some of the world's most beautiful stages such as Tomorrowland, EDC Las Vegas, Miami's Ultra Music Festival, not to mention opening for the European Football Championship in Paris. Recently, the Frenchman had the opportunity to set sail on a new adventure (pun intended), as he performed on a new stage to christen the first ever LNG powered cruise ship called AIDAnova.
On August 31, 2018, the ship, built by Meyer Werft in Papenburn, Lower Saxony, was baptized in Germany. In celebration of the christening, a highly anticipated two-day open-air concert took place. To kick off the first day's celebration, the guest of honor, David Guetta, took the stage at 9:30 PM. Supporting the Grammy Award winner, Hugel, and the Dutch duo Deepend performed.
The second day of the festivities welcomed the Papenburg Music Festival. The very talented Sarah Connor, James Blunt, and many other notable artists took the stage.
A record-breaking 25,000 visitors and another 50,000 music lovers were scheduled to attend. The final numbers have not been released, but with a crowd of that size, and undeniably skilled musicians showcasing their talents, there is no doubt that the event was a sheet success.
Speaking of triumphs, the new cruise ship is equipped with liquefied petroleum gas which is considered to be a greener propulsion system than diesel, or other related heavier fuel oil. The future is bright for the market leader, Aida, especially due to the fact that they have commisioned three LNG ships at Meyer Werft, not to mention has invested a whopping three billion euros regarding the expansion of its fleet!