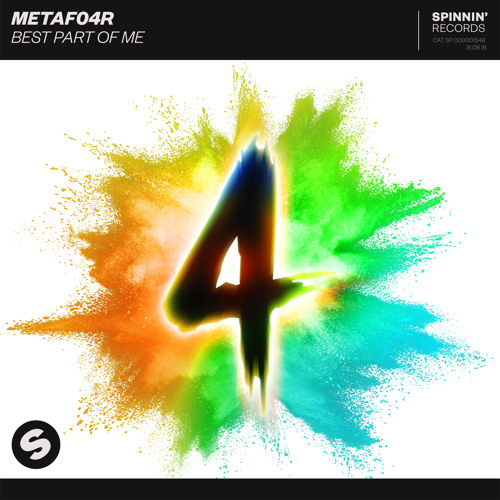 METAFO4R – Best Part Of Me
If you're a Fan of Dubvision, or Firebeatz, you might be familiar with METAFO4R. If you're not, don't worry, we have you covered. Whether you a fan of Dubvision, Firebeatz, or both, it can be agreed upon that both of the Dutch duo's make phenomenal music. METAFO4R just might have them both beat though. The reason I say this, is because the new supergroup consist of both Dubvision and Firebeatz together.
The group came about after a B2B booking between the duos at this years EDC Las Vegas. This was then followed up with by a second performance at Tomorrowland in Belgium. Both sets were filled to the brim with never before heard METAFO4R tracks. This left us with nothing but track ID's, and questions. Questions about when this amazing music would be released. Seems like we are finally getting some answers.
Best Part Of Me
Today we bring you METAFO4R's debut track titled 'Best Part Of Me'. The track starts off with 4/4  drum beat that Progressive House is known for. At 0:14 the different elements begin come in, to include a playful arpeggio and what sound like some EQ'd chords.
It is at 0:38 that we get the first taste of the tracks love-filled vocals, and with a title like 'Best Part Of Me' they are exactly what we were expecting. The chorus sings out:
"I was blind baby now I see,

your the best, the best part of me,

falling down yeah, i'm on my knees,

won't you come, come, back baby please,

tell me now that you won't let go,

tell me now that you'll make it home,

I was blind baby now I see,

your the best, the best part of me"
and quickly ends at 1:34. This is where the track begins to build with a simple snare, as well as the filling out of the chords, leading up to the drop at 2:03.
The drop is tricky, as it leaves us with the gargantuan task of trying to describe what seems like perfection. At its climax, 'Best Part Of Me' could easily be mistaken for an Axwell Λ Ingrosso track, if not the Swedish House Mafia. I don't mean this as the type of copy-cat track that we have seen an influx of in recent years, but rather as an original, innovative, trend shaping track we have come to know the Swedish supergroup for.
The Future
With today's debut of 'The Best Part Of Me' I feel that we can safely say there is a new supergroup in town, and that supergroup is the Dutch Quartet that is METAFO4R. The future looks bright for the group, and I for one, can not wait for more METAFO4R music. The groups describes their sound as a "new progressive…" a "new future progressive kinda sound", and to that, we can totally agree.
The Best Part Of Me has a run time of 5:27, and while it is long by today's standards, this is your typical Progressive House track run time. Between the creation of METAFO4R, the revival of SHM, and the numerous acts they both will, and already have inspired, it is amazing to see melodic music coming back into the spotlight. The future of Dance Music is in good hands.
 METAFO4R – 'Best Part Of Me' | DOWNLOAD
EDMTUNES recently sat down with METAFO4R at Tommorrowland for an EXCLUSVE interview, which you can check out here.
For more information on METAFO4R, be sure to check out their social media accounts below.