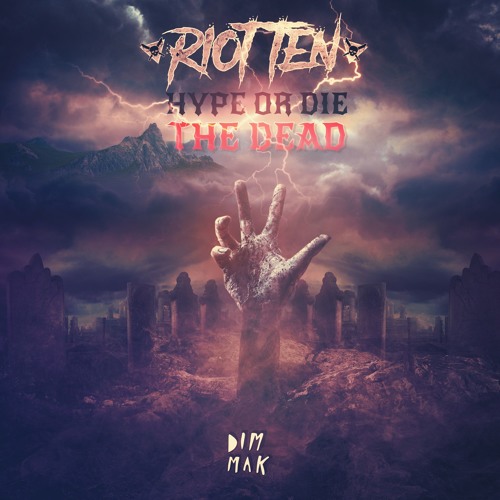 Riot Ten – Hype Or Die: The Dead
It was just a while ago when Riot Ten released his latest single, Pit Boss. The track, with collaboration from fellow headbanger Sullivan King as well as legendary Three 6 Mafia member DJ Paul was well-loved by many of his fans that everyone wanted more. This month, the established leader of dubstep returns with his highly-anticipated seven-track EP Hype or Die: The Dead.
The EP is joined by MC Rico Act and Germany's Badfella to create destructive riddim anthem "WTFLEX", along with songs "Graves," "Back At Em" (with Dim Mak alums ARIUS) and the EP's title track "The Dead". This murderous selection is rounded out by BadKlaat's vicious remix of "Pit Boss" and a special bonus track: Sullivan King's thrashing remix of the fan-favorite "Rail Breaker."
The EP arrives amidst Riot Ten's massive 55+ show North American tour with Datsik.
2017 was by far, Mr. Rail Breaker's biggest year to date due to his massive single, "Rail breaker". The countless viral videos and every fan's go-to headbanging anthem made the single stand atop the Dubstep charts. Even big acts like The Chainsmokers, Excision, Steve Aoki, Kayzo and NGHTMRE, to name a few couldn't resist the outbreak and got dropped in EDC Vegas, EDC Orlando, Electric Zoo, and Lost Lands music festivals.
With that fan base and that support, it is of no doubt that Riot Ten secured his spot as a global ambassador for heavy bass music. And like his iconic sets, this EP is a systematic chain reaction inspired by his relentless fan core who uncontrollably erupt with energy at every show.
Riot Ten is currently on the massive 55 date Ninja Nation tour as support for Datsik.
Hype or Die : The Dead Tracklist
Riot Ten & Sullivan King – Pit Boss (ft. DJ Paul)
Riot Ten & Badfella – WTFLEX (ft. Rico Act)
Riot Ten – The Dead
Riot Ten – Graves
Riot Ten & ARIUS – Back At Em
Riot Ten & Sullivan King – Pit Boss (feat. DJ Paul) [Badklaat Remix]
Riot Ten & Sullivan King – Pit Boss (feat. DJ Paul) [Instrumental Mix]
Riot Ten – Rail Breaker (feat. Rico Act) [Sullivan King Remix] [Bonus Track]
Follow Riot Ten:
www.instagram.com/riottenmusic
Riot Ten Appearing on Datsik Ninja Nation Tour 2018
1/12 @ Aragon Ballroom – Chicago, IL
1/13 @ The International – Knoxville, TN
1/16 @ Joy Theatre – New Orleans, LA
1/17 @ Bajas – Tallahassee, FL
1/18 @ House of Blues – Orlando, FL
1/19 @ The Ritz – Tampa, FL
1/20 @ Cinema – Pompano Beach, FL
2/10 @ Stage AE – Pittsburgh, PA
2/13 @ The Pub Station – Billings, MT
2/14 @ Roseland Theatre – Portland, OR
2/16 @ Knitting Factory – Spokane, WA
2/17 @ Revolution Event Center – Nampa, ID
2/19 @ Cornerstone Craft Beer & Live Music – Bloomington, MN
2/20 @ The Catalyst Club – Santa Cruz, CA
2/21 @ The Graduate – San Luis Obispo, CA
2/22 @ Cargo Concert Hall – Reno, NV
2/23 @ El Rey – Chico, CA
2/27 @ The Orpheum Theater – Flagstaff, AZ
2/28 @ The Rialto Theatre – Tucson, AZ
3/1 @ The Van Buren – Phoenix, AZ
3/2 @ The Hollywood Palladium – Los Angeles, CA
3/3 @ The Hollywood Palladium – Los Angeles, CA
3/7 @ The Historic El Rey Theater – Albuquerque, NM
3/ 8 @ The Joint at Hard Rock Hotel – Las Vegas, NV
3/10 @ 1STBANK Center – Broomfield, CO
3/12 @ Belly Up Aspen – Aspen, CO
3/13 @ Orpheum Madison – Madison, WI
3/14 @ Wooly's – Des Moines, IA
3/15 @ The Intersection – Grand Rapids, MI
3/16 @ Danforth Music Hall – Toronto, ON, Canada
3/17 @ Elevation 2018 at Place Bell – Laval, QC, Canada
3/20 @ Old National Centre – Indianapolis, IN
3/21 @ Blue Moose Tap House – Iowa City, IA
3/22 @ The District – Sioux Falls, SD
3/23 @ Skyway Theatre – Minneapolis, MN
3/24 @ Skyway Theatre – Minneapolis, MN
Check out our official EDMTunes playlist for the freshest tracks - updated weekly!