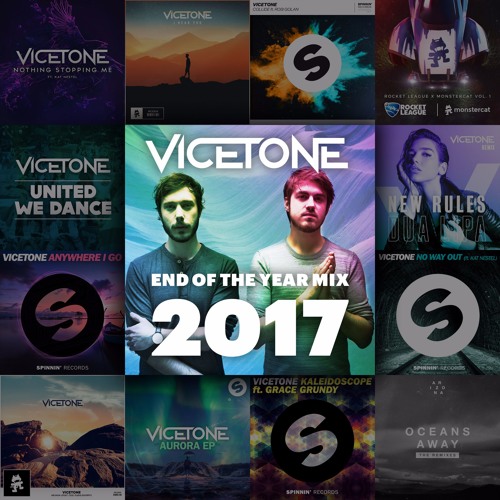 Vicetone – 2017 End Of The Year Mix
Vicetone's hotly anticipated annual End of the Year Mix has arrived. Since 2013, the Dutch duo, made up of Ruben Den Boer and Victor Pool, have been releasing extended mixes to mark the end of the year.
Opening with an orchestral ID and moving into more chilled out remixes and original tracks, the 47 minute mix will keep your head bobbing. A refreshing dose of Yellow Claw and some old school Vicetone vibes sprinkled in keep the mix interesting. It features some newer remixes in 'Oceans Away' by A R I Z O N A and 'New Rules' by Dua Lipa as well, and closes out with the classic 'United We Dance' mashed up with 'Legacy'.
The duo closes out with the words "With this throwback to our older songs, we want to thank all of you for tuning in again. 2018 is going to be a big year, and we can't wait to share all our new music with you. See you then" Evidently, we can expect some new beats from Vicetone next year.
Vicetone – 2017 End Of The Year Mix | Download

2017 End of Year Mix Tracklist
1) ID – ID
2) ID – ID
3) Dua Lipa – New Rules (Vicetone Remix)
4) Vicetone – I Hear You
5) Arizona – Oceans Away (Vicetone Remix)
6) Vicetone – Kaleidoscope (feat. Grace Grundy)
7) Vicetone – Nevada (feat. Cozi Zuehlsdorff)
8) Vicetone – Don't You Run (feat. Raja Kumari)
9) Vicetone – Collide (feat. Rosi Golan)
10) Vicetone – Apex
11) Vicetone – Landslide (feat. Youngblood Hawke)
12) Yellow Claw – Love and War (feat. Yade Lauren)
13) Daddy's Groove – Turn The Lights Down (David Guetta Re-Work)
14) Cash Cash – Overtime (Vicetone Remix)
15) Omen – Vicetone Cover
16) Vicetone – Anywhere I Go VS Ping Pong VS Barricade VS Satisfaction (Vicetone Mashup)
17) Vicetone – Nothing Stopping Me (feat. Kat Nestel)
18) Vicetone – No Way Out (feat. Kat Nestel)
19) Vicetone – United We Dance vs Legacy remix (Vicetone Mashup)
Check out our official EDMTunes playlist for the freshest tracks - updated weekly!