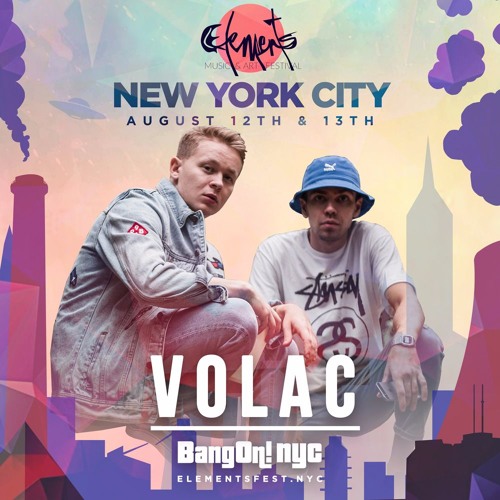 VOLAC, is an eclectic Russian duo that specializes in combining elements of bass house, deep house and g-house together, and they've prepared a bumping exclusive mix for the upcoming Elements NYC Music & Arts Festival!
Elements festival is this Saturday and Sunday – August 12th and 13th and is hosted at an industrial waterfront location and features 5 unique stages and art installations! You can still grab tickets here.
The line up is absolutely massive for this festival – and amongst the numerous headliners, VOLAC promises to be a truly awesome bass house and deep house live experience.
We at EDMTunes had the privilege of asking the duo some questions:
1
What has been the most memorable experience so far on tour this year?
We have a lot different cool moments but the most memorable are So Track Boa festival in Green Valley/Brazil and HARD fest in the US.
2
What do you have in store for us at Elements NYC Festival?
We will bring a lot of Volac bracelets and some lucky guys will get brand Volac hat. And of course a lot of new bangers tracks…
3
Being proponents of the bass house and deep house scene – who would you say have been the biggest influences on you guys – production wise?
We have inspiration from Night Bass artist crew. Especially it's Chris Lake, Chris Lorenzo and Tiesto haha

4
How was the experience like collaborating with DESTRUCTO on "What I Got"?
Destructo and we came from G-House. He's often supported and played our tracks. That is why we decided to make something with him. He definitely knows how to combine rap/hip hop & house music. We've exchange ideas with him and gave birth to 'What I Got'. The track blows up everywhere when we play it!
5
Are there any plans for more collaborations this year?
We almost finished tracks with LO'99, 219 boys, Rrotik. Stay tuned we gotta do more this year 😉
6
What advice do you guys have for upcoming producers and DJs?
Just try to be unique. Don't copy other artists. Do your own sh*t. That's all.
Be sure to check out their special Elements festival pre-mix below to get amped for this weekend!