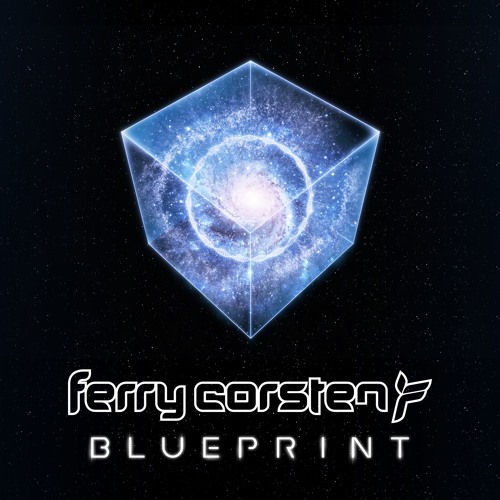 Ferry Corsten is a legendary Dutch trance producer and DJ that has been active since 1989 and has been pushing the boundaries of trance – combining different musical elements and genres. He now brings you his newest concept album "Blueprint to be released on May 26th, 2017!
Blueprint is a Sci-Fi inspired album whose storyboard was crafted by David H Miller of House of Cards and Rosewood. The album is voiced by Campbell Scott who is known for huge box office hits such as The Amazing Spider-Man!
This album is truly an exceptional one that captivates the listener immediately – there's an ominous narrative that focuses on such topics as the existence of mankind and the desire to reach beyond our own world. The album tells the stories of Lukas and Vee as they embark on their epic journey.
From the official press release: "Written into the musical code of the album, we learn that from the deepest edges of space, "The Drum" can be heard, endlessly repeating, without any understanding as to its reason or purpose. None of the greatest minds on earth or the governmental superpower can decipher its existence. Except one. As the listener journeys from the opening track to the last, the album chronicles the voyage of Lukas and Vee as a new world is opened up to not just the mind but the heart. But why did they send Vee? Is she the first contact or something more nefarious? As Lukas uncovers the truth, he learns of a far greater truth, one that has grand implications for all mankind."
The album's track listing:
01 Reception
02 Blueprint
03 Your Face Ft Eric Lumiere
04 Venera [Vee's Theme] as Gouryella
05 Something To Believe In Ft Eric Lumiere
06 Waiting Ft Niels Geusebroek
07 Here We Are Ft HALIENE
08 Edge Of The Sky Ft HALIENE
09 A World Beyond
10 Trust
11 Lonely Inside
12 Piece Of You Ft HALIENE
13 Wherever You Are Ft HALIENE
14 Drum's A Weapon
15 Reanimate Ft Clairity
16 Another Sunrise Ft Eric Lumiere & Haliene
17 Eternity
The album starts off with an ominous electronic heartbeat featured in "Reception".
The words "It begins with a sound. Echoing from the depths of space. Endlessly repeating. We couldn't help but listen…This isn't the first time, but this signal may be the last. Every country in every corner of the world has a different name for this sound, but most of them translate to simply 'the drum'". The narrative is coupled with a piano riff with heavy reverb along with orchestral sounds.
This track leads directly into "Blueprint" – a droning and pulsating track that has captured the essence of sci-fi inspired synthesizer sounds. The drums come in subtly to help further syncopate the piano riff and modulating bass line.
"Venera [Vee's Theme] as Gouryella" begins with explaining the origins of Vee, an android created by the protagonist Lukas.
Lukas is initially disappointed because he thinks that his android is incapable of conversation – just a "parrot". Just as when he thinks all hope is lost, the android speaks and says her name is "Vee". The track opens up with an extremely beautiful melody – juxtaposed against "Blueprint", it is obvious that there may be hope for Lukas as the track transitions into a proper uplifiting trance beat.
"Something to Believe" features a completely different style than that of a typical trance track – it features Eric Lumiere on vocals and the beat mimics a soulful R&B beat initially before transitioning into a dancier beat. It's infectiously catchy.
"A World Beyond" is conceptually a space odyssey – Lukas remarks that "If we could all cross the stars with our minds we would be free." Vee is able to harness the power of the Sun to travel passed physical bounds and ultimately is able to change the course of human history. However she is more interested in humankind – she asks about what snow feels like. She wants to know the "world beyond" – and this is what projects us into an extremely deep and thoughtful track that explores what it means to exist and the concepts of freedom and humanity. The track is rich in different synthesized strings, keys and a repetitive subtle modular bass wobble is heard later in the track. The drums take a softer approach to accentuate the journey across the stars within one's mind.
"Drum's A Weapon" is the most aggressive track on the album with a much higher bpm – it ismost reminiscent of a harder trance track with callbacks to big room styled synthesizers. A common motif featuring a loud synthesizer that mimics a pitch bend can be heard throughout.
This album is highly emotive and features musical, emotional and intellectual depth. This is an album you must listen to!
Be sure to decode Blueprint here and pre-order the album here.
Ferry Corsten North American Tour Dates
May 18 – Glow at Soundcheck – Washington, DC
May 19 – Webster Hall – New York City
May 20 – Gilt Nightclub – Orlando, FL
May 24 – Lush Rooftop – San Antonio, TX
May 25 – Foundation Nightclub – Seattle, WA
May 26 – Exchange – Los Angeles, CA
May 28 – Dreamstate – San Francisco, CA
June 16 – Illuminae – Atlanta, GA