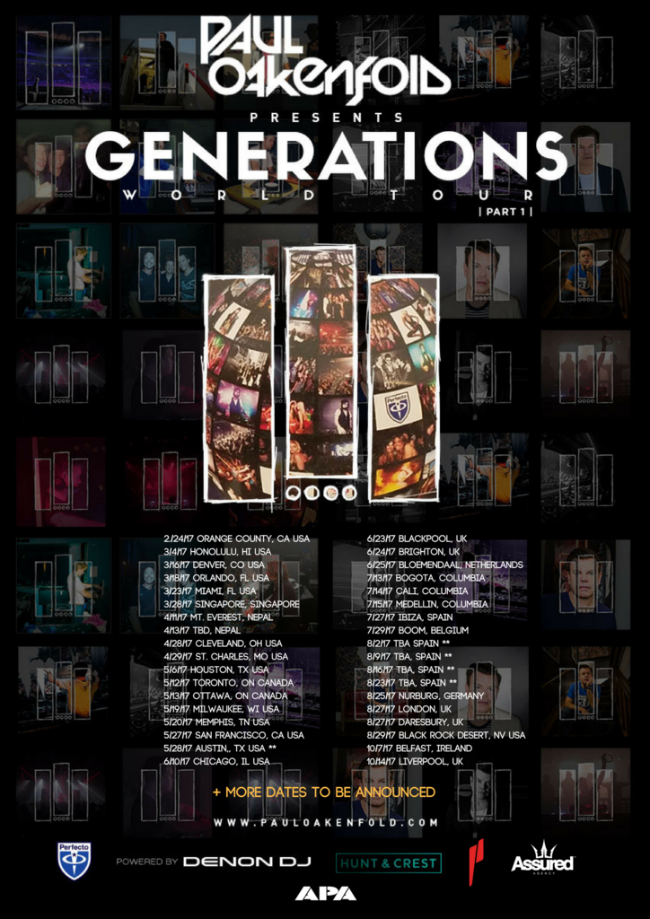 Anybody who is even remotely familiar with the dance music scene should be familiar with the name Paul Oakenfold. Throughout Paul's career, he has been nominated for three Grammys, sold millions of records and has been names DJ Mag's #1 DJ twice. He has worked with icons like Pharrell Williams, Grandmaster Flash, Nelly Furtado, Ice Cube, and Tricky to name a few.
Aside from his career in producing contemporary music and dance music, Paul has also had his hands in the scoring of film productions, including the blockbuster film Swordfish. He also has credits for music including Collateral, The Matrix Reloaded, Pirates of the Caribbean, Planet Of The Apes, and more.
This year marks the 30 year anniversary of Paul's famed trip to the white island of Ibiza. To celebrate Paul's championed journey as an artist, he is now embarking on a huge world tour titled 'GENERATIONS'. The tour is set to stop in locations in six different continents, including places like Mt. Everest, Ibiza, Austin, and Medellin. Excitingly enough, Paul will be attempting to be the first DJ to hike 17,000 feet and perform Mt Everest's Base Camp. For those who don't know, Oakenfold has an outstanding list of firsts, including being the first DJ to play The Great Wall of China, The Hollywood Bowl, Coachella's main stage and Madison Square Garden.
Keep up with Paul Oakenfold on Facebook and Twitter and make sure to catch some of his shows on the GENERATIONS Tour. Don't miss history continue to unfold.
Tour Dates
2-24 Orange County, CA
3-4 Honolulu, HI
3-11 Okemo, VT
3-16 Denver, CO
3-18 Orlando, FL
3-23 Miami, FL
3-28 Singapore
4-11 Base Camp, Mt. Everest
4-13 Kathmandu, Nepal
4-28 Cleveland, OH
4-29 St. Charles, MO
5-6 Houston, TX
5-12 Toronto, ON
5-13 Ottawa, ON
5-18 Washington, DC
5-19 Milwaukee, WI
5-20 St. Charles, MO
5-27 San Francisco, CA
5-28 Austin, TX **
6-10 Chicago, IL
6-23 Blackpool, UK
6-24 Brighton, UK
6-25 Bloemendaal, Netherlands
7-13 Bogota, Columbia
7-14 Cali, Columbia
7-15 Medellin, Columbia
7-27 Ibiza, ES
7-29 Boom, Belgium
8-2 Ibiza, ES **
8-9 Ibiza, ES **
8-16 Ibiza, ES **
8-23 Ibiza, ES **
8-25 Nuerburgring, Germany
8-27 London, UK
8-27 Daresbury, UK
10-7 Belfast, Ireland
10-14 Liverpool, UK
** Generations Residency