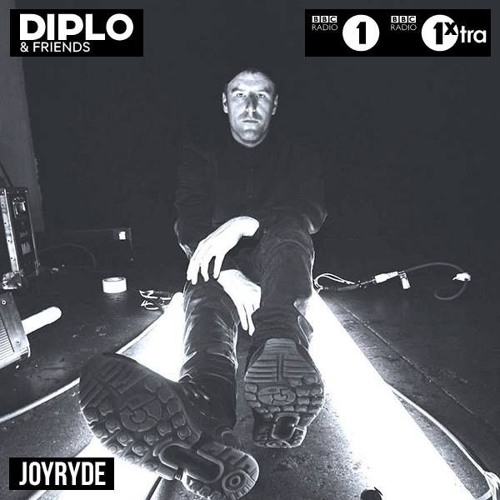 JOYRYDE Drops High Energy Diplo & Friends Mix
It's basically a right of passage to be featured on Diplo's radio show, Diplo & Friends on BBC Radio 1. The show consistently features some of the top artists producing music today and is a great avenue for exposing listeners to up-and-coming talented artists. This weekend featured one artist in particular that has cruising up the charts in popularity: JOYRYDE.
Once you hit the play button on this mix, you'll be instantly hooked. JOYRYDE immediately hits you with an unreleased original track and keeps the high energy through the rest of his mix with even more unreleased tracks, some of his own remixes including Destructo's '4 Real' and Jauz's 'Feel the Volume.' But also with a ton of tracks from trap/dubstep artists like Baauer and Ghastly while still mixing in a ton of hip hop artists.
You can check out the full track list and stream the mix below. JOYRYDE is out on tour right now so don't hesitate to grab tickets – these shows are guaranteed to be one hell of a ride!
JOYRYDE – Diplo & Friends Mix

Tracklist:
JOYRYDE – G BOMB [UNRELEASED] JOYRYDE – SPEED TRAP
FELIX CARTAL – KEEP UP FT. STEPH JONES (BROHUG REMIX)
DESTRUCTO – 4 REAL [ JOYRYDE 'SWURVE' MIX ] SCHOOLBOY Q – THAT PART FT. KANYE WEST
WIWEK & MOKSI – MASTA
JOYRYDE – KICKIN OFF
DOUBLE 99 FT. TOP CAT – RIP GROOVE
JAY KARAMA – KEEP CALM
MEDASIN & X&G – THE ZOO [ FT. JOSH PAN ] JOYRYDE – HARI KARI
SEEK N DESTROY – WRAP STARS
JOYRYDE – THE BOX
TY DOLLA $IGN – BLASÉ FT. FUTURE & RAE SREMMURD
DRAKE – BLESSINGS [ RIOT TEN REMIX ] KRNE & B.LEWIS – PCP
SOLO 45 – FEED EM TO THE LIONS
JAUZ – FEEL THE VOLUME
JAUZ – FEEL THE VOLUME [ JOYRYDE ' STICK IT IN REVERSE' MIX ] SKRILLEX & RICK ROSS PURPLE LAMBORGHINI [ TOM BUDIN ] SWITCH – A BIT PATCHY
KANYE WEST – MERCY FT. BIG SEAN, PUSHA T, 2 CHAINZ
WILEY – CAN'T GO WRONG
JOYRYDE – HOAM
GHETTS & RUDE KID – BAD BOY
JACKAL – GUNSHOT (FEAT. JAMMIN)
STORMZY – SCARY
T Q D – DAY & NIGHT [DAY MIX] JACK Ü – TO Ü [ JOYRYDE MIX 2015 ] [UNRELEASED] BAAUER – DAY ONES
JOYRYDE – DAMN FT. FREDDIE GIBBS
DRAKE – BACK 2 BACK
DJ GUV – WARNING
LNY TNZ – ALL THE LADIES (FT. SAM KING)
KALI UCHIS – RIDIN ROUND FT. TORY LANEZ [ OSHI REDO ] JOYRYDE – I WEAR HOUSE [UNRELEASED] BROHUG – WTF
JOYRYDE – HOT DRUM
GETTER & GHASTLY – 666 [ GETTER VIP ] JOYRYDE – GIVE MY LOVE
EPHWURD – HIGH ON YOU
GHASTLY – TOKYO
BORGORE & GETTER – SQUAD [ JOYRYDE REMIX ] [UNRELEASED] JOSH PAN – PLATINUM
DJ SLIINK – HIGHER (FEAT. FATMAN SCOOP)
JOYRYDE FT. RICK RO$$ – WINDOWS
Check out our official EDMTunes playlist for the freshest tracks - updated weekly!