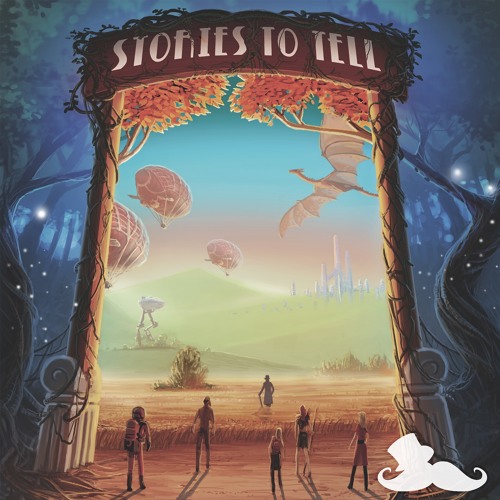 Not even a week ago we shared Just a Gent's single, "Rolling Dice," effectively head over heels for its spacey atmospherics, haunting vocals, and intimate melody. A week from its original upload date, the 19 year old has finally debut his EP Stories to Tell. The product of 2 years of passionate toil, Stories to Tell is a dynamically robust offering displaying veteran variability; with an energy arc that flows with ease from "Intro" to "The End," each track feels purposefully crafted and placed for maximum effect upon each listen.
Long time favorite and HypeM #1, "Heavy as a Heartbreak," finds itself in good company with other heavy-hitters like, "Art Department" with its almost moombahton-like punches and quirky techno character or "Phenomenon" with its pacy wubs and classic synth stabs; "Rolling Dice," "Loaded," and "Sound of Her Mind" offer nice breaks to the hype with a decidedly more melodic focus, and supreme attention to unique sound design. Complete with an list of elite vocalists in Samsaruh, Melissa Ramsay, Ella Vos and Joey Chavez, Stories to Tell is undoubtedly one of the strongest EPs available thus far in 2016, and may be the sleeper champion for many a far. Stream it, share, purchase it, whatever suits your fancy, this is one collection of music you wont' want to miss – breakdown included below.
---
Breakdown:
Intro – Whimsical, somber, profoundly simple. This introduction sets the mood for an EP that displays all these qualities in some form or another throughout.
Sounds of Her Mind – Vocally driven and emotionally grounded, this track takes the route of mature restriction, eschewing the option of a heavy drop for a downtempo, warm yet cold myriad of synth, piano, string, and various bits of ear candy.
Heavy as a Heartbreak – An already proven hit characterized by twangy synth leads and a quickened pace, this single has been an excellent hybrid of indie dance and rock n' roll, if not by its audible elements then simply by its attitude.
Loaded – Synthetic swells, plucky percussion, and lighthearted vibes come midway through the EP to prepare for the intensity that's to come to round out this collection.
Rolling Dice – Built upon similar characteristics that made the to ubiquitous M Machine EP, Metropolis Pt. 1, the classic that it is today, this track provides the ultimate example of dynamic construction with peaks and troughs of energy. Male vocals offer a refreshing warmth.
Art Department – The rowdy rebel of the bunch, this vocally chopped bass driven track rambles along with curious brawn.
Phenomenon – Perhaps the most 'EDM' in structure, this aims to satisfy fans of electro, complextro, and future in a single package.
The End –  Capping off the EP with a bang, but not without some class mixed in. A unique choice of instruments and strong electronic elements come together in a single moment to symbolize the variability promised in "Intro" and displayed throughout the EP.
---