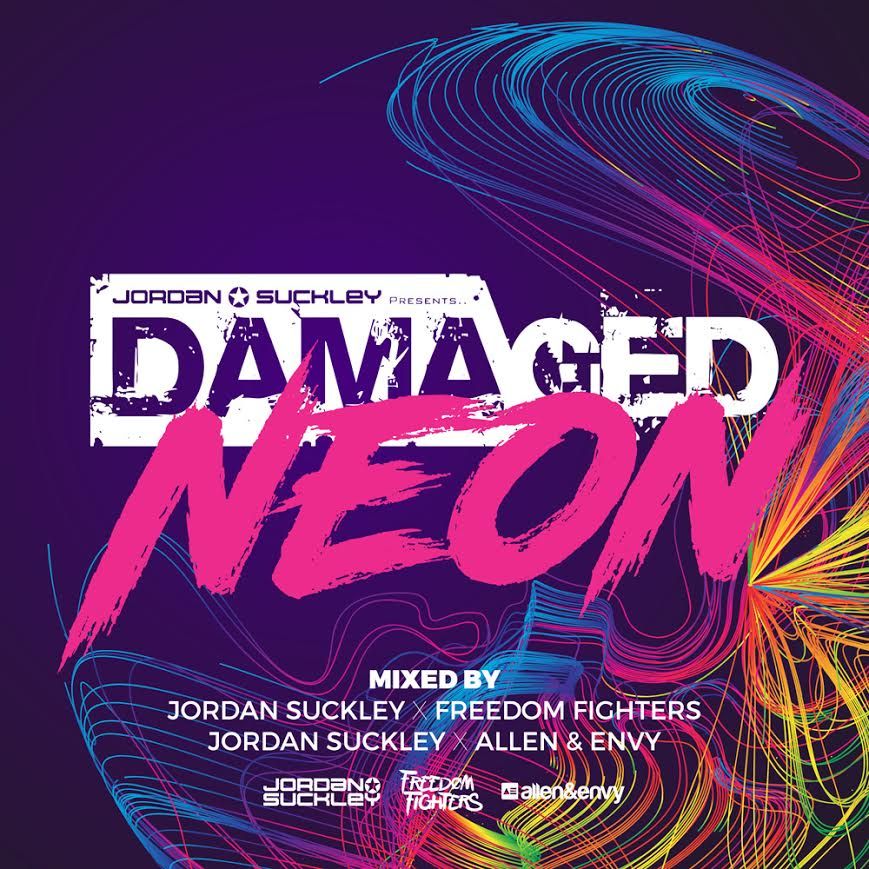 Jordan Suckley, Allen & Envy and Freedom Fighters –
Damaged Neon
Continuing to bring the time honored genre that is trance music back from near extinction, as the founders of trance moved on to bigger things, there were a few rising stars that kept this uplifting, yet grounding style of music afloat. Jordan Suckley is one of those names. Having released late last year his interpretation of the Red Alert mix compilation, he comes back with vengeance in true back-to-back style, featuring Allen & Envy and Freedom Fighters.
Damaged Neon looks to take listeners to a place of being constantly on edge with the euphoric, uplifting and harder styles rolled into the two disc mix. Fresh out of the gate on disc one b2b with Allen & Envy, Argy's retake of Jordan Suckley's "Contaminated" sets the bar high with breathtaking use of hard hitting drums and euphoric synth designs that cling to the track ever so slightly. Tiesto's "Traffic" makes an appeareance as Richard Durrand takes a stab at remix the classic. You'll also find Allen & Envy quite a few times as to be expected with the Dan Stone remix of "Without You" featuring Neev Kennedy follows the "Traffic" remix quite nicely.
"Wasteland" by Freedom Fighters doesn't let up as properly set samples atop a heart racing groove provides quite the experience to begin disc two. Revolution 9 and Amara team up for two tracks on disc two with "The Tube" and "Scolopendra" which encompass inherent traits of psytrance, utilize hypnotic vocal samples and demonstrate a wealth of knowledge in production style. Christopher Lawrence makes a couple of appearances as his productions "Zulu Magic", co-produced with Indecent Noise is a smooth, transient experience while "Banshee", a collaboration with Lostly, contains high energy synthlines on both octave spectrums that drive the track to a nice bpm. Astrix chimes in twice along with Neelix offering his service on the Phaxe "Angels Of Destruction" complete with stunning vocals and brilliant use of piano underneath.
Very solid mix overall for trance fans and if you're looking for something of your normal comfort zone, whatever that might be in the electronic music spectrum, the album shelves a wide variety of productions spanning the genre chart. You can snag the whole on all of your favorite portals now!
Jordan Suckley, Allen & Envy and Freedom Fighters – Damaged Neon | Download
Tracklist:
Mix 1 – Jordan Suckley vs Allen & Envy
01. Jordan Suckley – Contaminated (Argy Remix)
02. Sam Jones – Unknown
03. Maarten de Jong – Clockwork
04. Project 8 – Blood Drunk
05. Orla Feeney & Kriess Guyte – Vortex
06. Jordan Suckley – Ritual
07. XGenic – Soothsayer
08. Will Rees – Weapon
09. Tiësto – Traffic (Richard Durand Remix)
10. Allen & Envy & Neev Kennedy – Without You (Dan Stone Remix)
11. Allen & Envy with Cari – Promises
12. Allen & Envy featuring Robin Vane – lmmortal
13. Graeme Harrison – Xanthe (Allen & Envy & Mark W Rework)
14. Forerunners – Lifecycle (Amir Hussain Remix)
15. Allen & Envy & Allen Watts – Vega (Cold Rush Remix)
16. UDM featuring lrina Makosh – Set Me Free (Mike Sanders Remix)
17. Chris Metcalfe & Allen Watts – Trinity
18. Miroslav Vrlik – Backyard
19. Allen & Envy & UDM – lgnite (F.G. Noise Remix)
Mix 2 – Jordan Suckley vs Freedom Fighters
01. Freedom Fighters – Wasteland
02. Loud & Burn In Noise – A Real Good Time
03. Freedom Fighters & Lifeforms – Spiral
04. Vini Vici & Ace Ventura – The Calling
05. Astrix – Deep Jungle Walk
06. Astrix & Tristen – Awake the Snake
07. Pixel & Wrecked Machines – Mother Funker (Outsiders Remix)
08. Revolution 9 & Amara – The Tube
09. Phaxe – Angels Of Destruction (Neelix Whatz Up Remix)
10. Jordan Suckley – Aztec Curse (Eddie Bitar Remix)
11. Indecent Noise & Christopher Lawrence – Zulu Magic
12. Liquid Soul – Revolution (Future Frequency Remix)
13. Revolution 9 & Amara – Scolopendra
14. Ritmo & Liquid Soul – Be Right
15. Christopher Lawrence – Banshee (Lostly Remix)
Check out our official EDMTunes playlist for the freshest tracks - updated weekly!