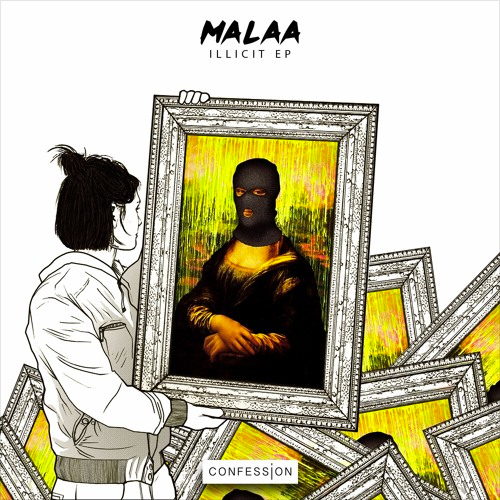 Malaa has taken the world of house music by storm. This masked producer made one of his first appearances this past year at Ultra Music Festival, where he wowed fans with his unique sound.
Although Malaa has only been in the spotlight for a short period of time, he has quickly gained a serious reputation for his no-nonsense, hard hitting, house music. Malaa chooses to perform masked in black, and when he performs simply lets his music do the talking. The Illicit EP is his first major release of the year, and although brief, is filled with variety.
Illicit EP Tracklist:
Illicit Intro
Diamonds
Frequency 75
Danger
It would be best to classify this EP's genre as G-House. G-House is a sub genre of house music that combines the aesthetics of hip-hop with a raw house groove. The album's intro is minimally arranged, with a pitched down vocal, which is a characteristic to many of Malaa's productions. The intro warms up the listeners for the second track "Diamonds," which uses a similar palette of sound to the intro. "Diamonds" is unmistakably the most popular song on the EP due to its extremely recognizable hook.
The standout track on the EP is definitely "Frequency 75." This is the most unique track on the EP and has a more traditional house feel to it. This shows Malaa's diversity, as well as appreciation for proper house music.
The final production on the album, Danger is a solid track, but does not excite in the same way that "Frequency 75" does. With this being said, it is still extremely well produced, and also drops harder than the previous track.
One aspect of Malaa's production that doesn't fail to set him apart is his creative use of percussive samples. If you listen carefully, many of Malaa's snare hits, kicks, claps, and hi-hats are totally unique to him.
This entire EP is a huge step forward for the world of house music. Through his unique production style, MALAA is furthering the effort spearheaded by many producers before him of bringing the world of underground house music into the spotlight. It is exciting to see such unique work get such high acclaim.
Stream the Illicit EP Here: