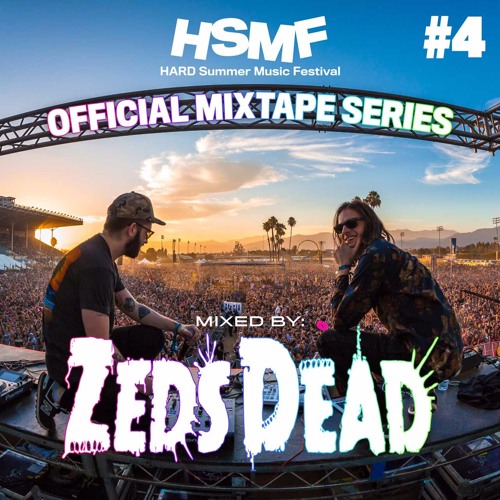 Hard Summer Mixtape Series #4: Zeds Dead
It's the middle of summer. Festival season is in full swing. It's hot. And it's about to get hotter. Hard Summer Music Festival is upon us, taking place July 30th and 31st in Southern California. For those that will be in attendance, congratulations, for those unlucky souls missing out, you'll have to stick to mixtape streams on SoundCloud. But, like late-July weather, these mixtapes are HOT.
The latest release comes from dubstep heavy hitter Zeds Dead. Coming off an insane 2015, the duo hasn't slowed down. This mix, their live sets, and latest releases are evidence. Just this week they released a solid track, "Blame" with Diplo and Elliphant. Check out this mixtape and you'll hear that one plus a ton of other hits from SNBRN, Jauz, Pusha T, Flux Pavilion, Malaa and remixes from Galactic Marvl and San Holo. Not only that, they cap off the mix with new original Zeds Dead music. You should check out the other Hard Summer mixes here, but this might be the best Hard Summer Mixtape released yet and one you definitely don't want to miss!
Hard Summer Mixtape Series #4: Zeds Dead

Tracklist:
Chase & Status feat. Novelist – NRG
cookie monsta – soundboy
ac slater – bass inside
Jess Glynne – hold my hand – chris lake remix
Hotel Garuda – Smoke Signals (Electric Mantis Remix)
Zeds Dead x DIplo – Blame ft. Elliphant
DELTA HEAVY – WHITE FLAG (TISOKI REMIX)
Dellux X Izzie Gibbs – Normal (Pipe Up)
Kaskade & Felix Cartal – Fakin It feat. Ofelia K (Galactic Marvl Remix)
Faithless – We Come 1 (Flux Pavilion Remix)
Diskord – UR LOVE
Electrosoul System – Flawless
Resonate – Bomb Squad
Keys n Krates – I know u
ManMan Savage – taking shots
SNBRN ft. Nate Dogg – Gangsta Walk (QUIX Remix)
Diskord – Out There
Jauz x Netsky – Higher
Champagne Drip – Open Your Eyes
Pusha T – Untouchable
Maduk – Don't Forget
Sunday Crunk Remix
Kill_The_Noise_-_Mine_(ft._Bryn_Christopher)_[Getter_Remix] QUIX & Troy Kete – Sippy Cup
GoldLink – Spectrum (Redlight Remix)
Destructo – Techno (Chemical Surf & Sharam Jey Remix2)
Cause & Affect & Stanton Warriors – Bounce
Tazer and Tink – Wet Dollars (Zeds Dead Remix)
Malaa – Fade
Select Active – Get Money
Doja Cat – So High (San Holo Remix)
Zeds Dead – ID