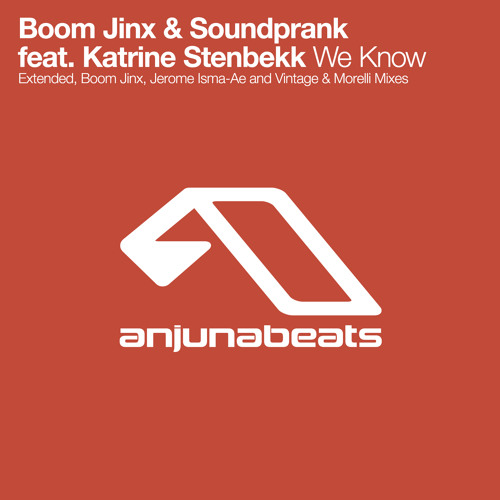 Boom Jinx & Soundprank feat. Katrine Stenbekk – We Know (+ Remixes)
Taken from
Boom Jinx's
debut artist album
No Answers In Luck
, the long time Anjuna stalwart combined talents with
Soundprank
, who has been building his reputation over recent years with the
Above & Beyond
family, for a vocal gem featuring
Katrine Stenbekk
titled "We Know".
Including three remixes for this release plus the extended album mix, Boom Jinx decided another rendition by himself was in order and added it as part of the pack as well. The rolling bass line and chosen synth design lighten the mood a tad with his remix.
Jerome Isma-Ae, known for his slow burner tunes, does just that with a gritty combo of melodic and dark arrangments. Taking the heavy tech direction, utilizing only a few seconds of the original vocal, turns the vocal driven track into something fit for an afterhours warehouse party.
Serbia's Marko Cubic aka Vintage & Moreli's stripped back house remix sent shivers down this writers spine the first time I heard it on ABGT 179 as record of the week. Cubic's utilization of Katrine's vocals is unparalleled and the sound that got him onto Anunabeats Vol. 12 with "Contrast" make themselves known up and down on this track.
Boom Jinx & Soundprank feat. Katrine Stenbekk – We Know (+ Remixes) | Download