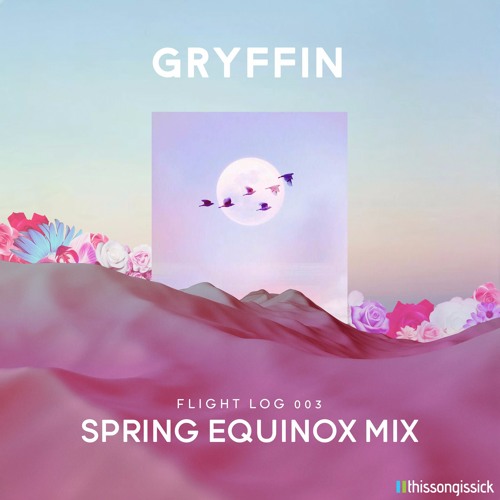 Gryffin Flight Log 003 – Spring Equinox Mix
Feel like dancing? Then please make sure your tray tables are stowed and seats are in their fully upright and locked positions as Gryffin takes us on a journey with a third edition of his seasonal Flight Log; the Spring Equinox Mix. What better way to thaw out from winter than with an upbeat, toe-tapping mix that provides listeners with warm spring vibes that we are craving. Gryffin is heading onward and upward after wrapping 2015 with his second Flight Log: the Winter Solstice Mix. His momentum has continued in 2016 after releasing his first original track, "Heading Home" earlier this year.
On this mix Gryffin soulfully blends optimistic house beats with a series of Indie vocals, sampling from recognizable acts such as: CHVRCHES, Of Monsters and Men, Big Wild, fellow house artist The Magician, and even our cartoon pals Gorillaz. If you're picking up on what this up and comer is putting down then you'll definitely want to catch one of his remaining live shows on his current Heading Home tour. But be prepared to thoroughly enjoy yourself as Gryffin has started to incorporate live instruments into his shows, which add a whole other level of depth to what will already be an uplifting experience. Tickets still remain for a few shows as the tour wraps up. For those that can't make it, roll the windows down, grab your sunnies and smile. Spring is here. Good vibes.
Gryffin Flight Log 003 – Spring Equinox Mix | Download

Gryffin Flight Log 003 – Spring Equinox Mix Tracklist:
Gryffin – Heading Home (Nick Talos Remix)
A-Trak – We All Fall Down feat Jamie Lidell
Gorillaz – Feel Good Inc (Filous cover)
CHVRCHES – Clearest Blue (Gryffin Remix)
Of Monsters and Men – Wolves Without Teeth (CLOUDCHORD Remix)
The Him – Feels Like Home
RÜFÜS – Like an Animal
Troye Sivan – Youth (Gryffin Remix)
Mura Masa – What If I Go
Big Wild – Aftergold feat Tove Styrke
Years & Years – Shine (Sam Feldt Remix)
Pretty Pink ft ARC – Run
The Magician – Shy feat Brayton Bowman
The Verve – Bittersweet Symphony (Androma Remix)