A month ago, we
broke
a story that in which an new organization had been formed to help combat some of the negative images and conceptions that surround the dance music industry. The
Apollo Aid Foundation
, based around true charitable giving, donating 90% of all profits to the charities fans pick as well as those the artists supporting the cause have decided on too, is a breath of fresh air.
As their first ever event, the Apollo Aid Foundation have teamed up with Exchange LA on May 5th as seven of its founding artists will be taking over the venue to raise money for charity with their fans. Factor B, Kristina Sky, Mark Pledger, Mike Koglin, Neptune Project, The Noble Six and Roger Shah have come together to produce a line-up the likes not seen in the Los Angeles area before.
The lineup has Mark Pledger going back-to-back with Mike Koglin for an Anjunabeats classics set, Roger Shah bringing out his Sunlounger alias, Neptune Project is performing an 'In Search of Sunrise' Warm Up set as well as debuting their project with the Noble Six titled Interstellar, the US debut of Factor B and LA based singer Kristine Sky.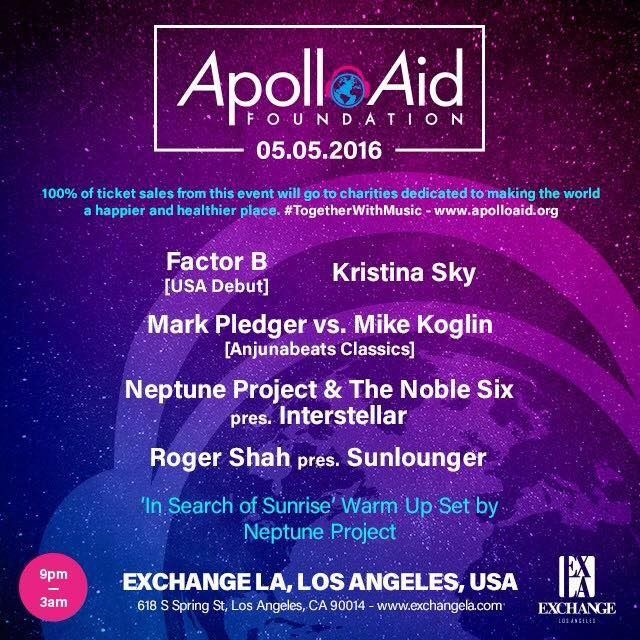 I'm very happy to play this very first Apollo Aid show. It's amazing to see so many artists teaming up for a good cause and unite fans to follow by example. I can't wait to present a special Sunlounger set, dedicated to the Apollo Aid Foundation and I really hope this won't be the last Apollo Aid show in 2016. – Roger Shah
Everything going into the night will be donated to charity including artist fees and ticket sales. 100% with special pre-sale pricing and exclusive Apollo Aid Package including admission, one of t-shirt designs and a wristband.
Tixs: torch.ly/ApolloAid
Merch: www.apolloaid.org