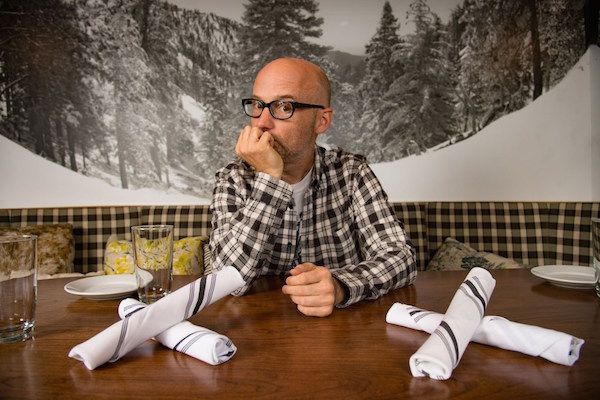 As "one of the most important dance music figures of the early 1990s," Richard Hall, a.k.a. Moby, has enjoyed immense musical success since his rise to dance music stardom in the early '90s. The acclaimed DJ and Grammy winner has sold 20 million albums worldwide and co-wrote, produced, and remixed music for international stars like Michael Jackson, David Bowie, Daft Punk, Britney Spears, Guns N' Roses and Metallica. The dance music giant has experimented with the sounds of techno, breakbeat hardcore, electronica, house music, downtempo and alternative rock, has tried his talents as author and photographer, and is now embarking on his newest venture: restauranteur.
As a highly enthusiastic animal rights activist and vegan for almost 30 years, Moby is channeling his passion for animals into his first project in the restaurant industry, a Mediterranean inspired vegan restaurant called Little Pine, located in northern Los Angeles. Using traditional recipes applied to vegan materials, Moby hopes his restaurant will be an establishment that patrons of all dietary preferences will enjoy and love. The restaurant boasts a cozy ambience adorned with nature photographs taken by Moby himself and has various curiosities for sale like candles, coffee table books and teas, resulting in an inviting atmosphere that Moby designed to act as an "effortless refuge" for its customers. And where did the name come from? It's simple… The musician turned restauranteur explained "I like pine trees and I'm not very big."
Check out our official EDMTunes playlist for the freshest tracks - updated weekly!