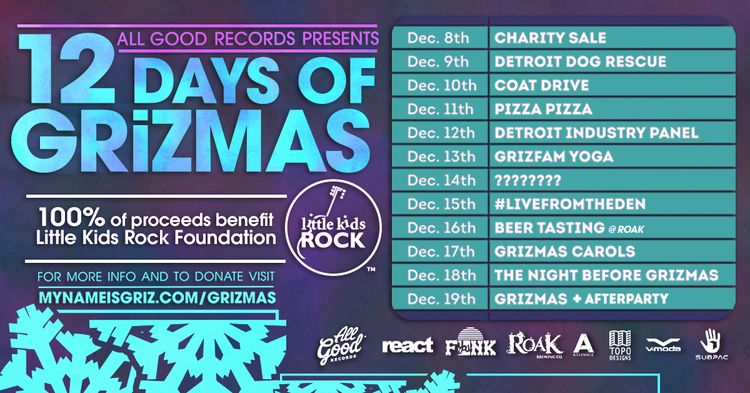 GRiZ and his label All Good Records announced today their holiday fundraiser 12 Days of GRiZMAS. Beginning December 8th, the Motown collective will be leading a series of philanthropic events dedicated to helping raise money for Little Kids Rock. The non-profit organization strives to provide free music education for under-serviced public schools across the entire United States.
Each day the All Good Records collective will participate in various charitable endeavors, including a visit at the only No-Kill Dog Shelter in Detroit, food & clothing drives and more.
These philanthropic events have an allotment of tickets available for public purchase. All proceeds go to Little Kids Rock – fans are incentivized by having the chance to hang with their favorite artists, but also get added to an exclusive list for All Good Records' secret warehouse party.
The final day ends with the sold out GRiZMAS showcase at Detroit's iconic Masonic Temple. A fitting conclusion to 12 days of holiday spirit.
Donation Link: www.mynameisgriz.com/grizmas