Halloween can be one of the most fun or most stressful times of the year. Between costume planning, organizing where to go, and who to go with, it all adds up to one or two new grey hairs and a whole lot of infuriating group-texts. That's why we at EDMTunes have done a bit of the heavy lifting for you by combing across all thats going on, and making a list of the must-attend events for the spookier times of the year. Below is a list of some of the hottest events that are tried and true to be some of the biggest parties the world has to offer. So take a look at the ones around your area, and make your calendars for what is sure to be some of the wildest nights of the year.
1: HARD presents Day of the Dead – Fairplex in Southern California – October 31st through November 1st:
Never one to miss a beat, HARD is back with one of the most notorious festivals of the year. Once again bringing back the biggest names, like Deadmau5 and Skrillex, it is safe to say that if this festival hasn't been checked off of your bucket list then this might just be the year to do it. Arguably the most extensive lineup the United States has to offer, almost every artist under the sun will be here for your enjoyment. HARD is also notorious for its over the top stage productions, which will easily wow all in attendance. Tickets for purchase here.
---
2: Freak Night – Tacoma, Washington – October 30th through October 31st
The largest halloween festival in the Pacific Northwest, Freak Night has always been a pure joy to attend. The unique experience comes complete with costumed performers, interactive rides, and some of the most stacked lineups of the year. Usually hosted in downtown Seattle, this year the festival has moved about an hour south to the Tacoma dome. Hit this amazing festival so you can see some of the widest range of acts of any party this year. Purchase tickets here.
---
3: Suwannee Hulaween – Live Oak, Florida – October 30th through November 1st:
Nothing is between than dancing the night away in an illuminated forest. That's part of the unique experiences offered at Suwannee Hulaween down in Florida. A unique blend of all sorts of music, everything from dance music to hip hop is offered. There even is an official pre-party held the night before, so make sure you arrive early to kick off the creepy weekend in style. So snag your tickets here.
---
4: Voodoo Experience – New Orleans – October 30th through November 1st:
We should we could say that Voodoo was a once in a lifetime experience, but since it's offered every year we can simply call it the mecca of spooky boutique festivals. Hosting a smattering of all styles of music, there's something for everyone across one of its many stages. Anything from Jack U to Modest Mouse and even Florence + The Machine will be delivering some great tunes for you, so mark your calendars if you're anywhere down south for this amazing festival. Tickets here.
---
5: Something Wicked – Houston – October 24th through October 25th:
Something Wicked has been on many ravers must-go to events every year. This iconic festival is renown for having some of the best-dressed attendees in the nation, so make sure to being your costumed A game if you think you're up to the challenge. Held at Houston's gigantic Sam Houston Race Park, headliners will include the likes of Above & Beyond, Jack U, Tchami, and more. Those are just a handful of the headliners, with countless other acts to kick the night off the right way.
With multiple different ticket options, this festival has gone to every length to make sure your halloween needs are taken care of.
---
6: Insomniac's BOO! – San Fransisco – October 30th through October 31st: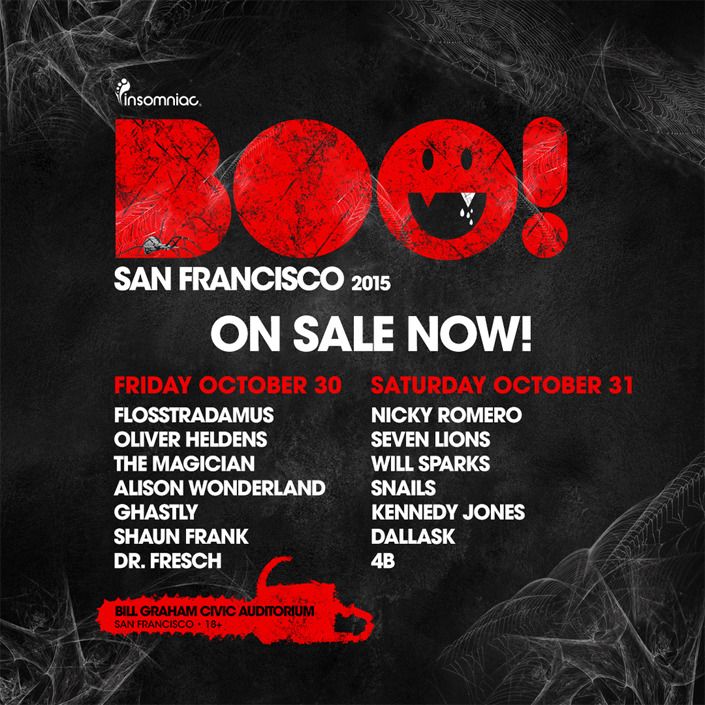 Our friends over at Insomniac have this thing down to a science. Consistently bringing some of the biggest names in the industry together for some of the biggest nights of the year, BOO! is certainly something anyone in the Bay Area needs to check out. With Flosstradamus and Allison Wonderland taking the stage the first night, and Nicky Romero and Seven Lions going at it the second night, the rest of the stacked lineup is just more icing on the cake. Held at the Bill Graham Civic Auditorium, this is is not something you're going to want to miss. Get your tickets here.
---
7: Freaky Deaky Halloween – Illinois – October 30th through November 1st:
Saving the best for last, Freaky Deaky Halloween is beyond a doubt a must attend. This three day festival will have you raging all throughout the weekend. With big names like Bassnectar and Audien on the ticket, this festival has a little something for any dance music fan to get down to. Even 2 Chainz is on the ticket! Held at the massive Toyota Park in Bridgeview, Illinois, this venue is just massive enough to bring all the spooky vibes to everyone attending. Purchase tickets here.
*Bonus* 8. Escape Psycho Circus – California – October 30th – October 31st
And that will about do it folks! Hopefully we helped a bit plan out your evening. Remember to stay safe, and have the time of your life with all your friends! Let us know how your nights going on Twitter or Facebook. We'll be attending a number of these events, so look forward to further reviews as well. Happy Halloween!!!