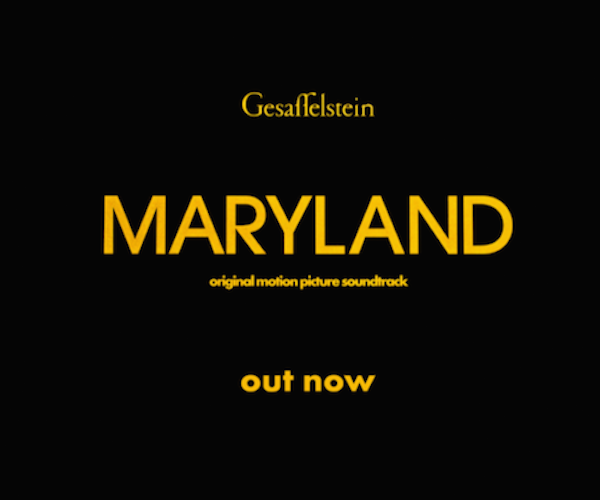 Two months ago, France's beloved, dark lord of Techno, Gesaffelstein, teased fans with an eerie and equally mysterious countdown that monopolized his entire website. The ominous, black and white countdown, accompanied by spine-chilling sounds, was set to culminate on September 11th and marked the first time the boundary-pushing producer broke his silence since retiring his Aleph live performance. With this in mind, many fans anticipated the countdown to reveal details of a sophomore album, but instead, it announced the release of a 15-track motion picture soundtrack composed by Gesaffelstein for the French drama/thriller entitled, Maryland (also named Disorder). The film, directed by Alice Winocour, tells the story of an ex-soldier and victim of post-traumatic stress disorder who is hired by a wealthy Lebanese businessman to ensure the safety of his wife and child in his "Maryland" property while he's out of town. The plot is fixated around the ex-solider, who is prone to anxiety and hallucinations and perceives an external threat against the man's wife…
Gesaffelstein's musical return via movie score composition includes twelve, new original songs, along with three cuts from his debut 2013 album Aleph: "Conspiracy Origins," "Wall of Memories" and the title track. The soundtrack serves as an atmospheric supplement to the plot, rather than a showcase of separate tracks or any breakout singles from the artist. That being said, the release brilliantly proves Gesaffelstein's status as one of electronic music's most talented producers, as it highlights his characteristic, hard-edged, and progressive production capabilities.
The soundtrack is available exclusively in vinyl format, and includes all fifteen of the film's compositions, spread across two vinyl pressings, housed in screen printed gatefold and inner sleeves with one of the scores printed on X-Ray paper. There is a limited 1000 copies of the vinyl set, already available for preorder. While the film won't be out until September 30th, the soundtrack will officially be released on the 24th.
---
Tracklist:
Side A
1. maryland theme
2. disorder
3. trauma
Side B
1. theme for jessie
2. failures
3. espial
4. pronoia
Side C
1. ultra violence
2. something has changed
3. distrust
4. a pledge
Side D
1. human nature
2. conspiracy origins
3. wall of memories
4. aleph