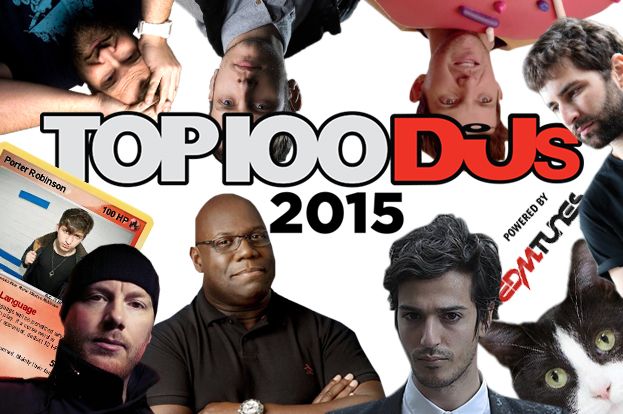 While the
DJ Mag
Top 100 DJs competition has become the butt of many jokes within the dance music blog community, it still keeps on chugging along. In fact, voting for the 2015 edition
is ending today
. We decided than rather than dish the same old criticisms, we would have our team vote and see who they picked. The picks are order ranked, so #1 gets 5 points and #5 gets 1 point. Below you can check out our top 3 and read on to see why. While you're at it, head on over and cast your votes
here
before the time runs out today.
Here at EDMTunes our top 3 were as follows:
1. Eric Prydz – 16 points

2. Above & Beyond – 8 (tie)

2. Claude von Stroke – 8 (tie)

3. Porter Robinson – 6
Elliott – Editor-in-Chief
1. Dillon Francis – It's really been his year, in my eyes. With the release of his album and mixtape, he's put out the densest selection of high quality music this year, and it's legitimately unique stuff. And his shows go fucking (pardon my French) off.

2. Martin Garrix – #2 because despite his rapid rise to fame, he still really hasn't paid his dues like I feel some other guys have. That said, he's damn close to #1 for me, and there's no doubt in my mind this kid is going to attain a legend-status soon.

3. ODESZA – Their album continues to resonate with fans like it was released yesterday, and their live performances are only getting bigger (Coachella was stupid good). Be it their own originals, or people remixing their originals, everything with ODESZA name on it is gold.

4. JACK Ü – Skrillex & Diplo formed a power duo like nobody else could. Literally. Their fanbases compliment each other, as does their music, and the branding and behind them has been top notch. Plus their music is yet another example of how dance music is cutting into the mainstream scene.

5. Claude von Stroke – 2015 could also be argued as "The Year of the Dirtybird." Plus Who doesn't like a guy who can make a crowd of people bounce to truly unique music AND cook you BBQ?
Scott – Assistant Editor
1. Eric Prydz – Lord Prydz wins the year by a mile. He had a life changing ASOT set at Ultra 2015 and has released several outstanding singles in addition to 4 EPs spanning 10 years of material and an album which will surely amaze.

2. Skrillex – Skrillex has been slaying mainstages all year long and teasing so many killer IDs its hard to keep track. It's only a matter of time before another album is announced. – and yes Skrillex > Jack U.

3. Above & Beyond – Their new album has aged gracefully and its quality has only increased as they unveil beautiful remixes to the singles that have all seemingly become classics in their own right.

4. Armin van Buuren – Armin has slipped recently but his ASOT Miami set and some of his new alias singles for Gaia and Rising Star have shown that he's still got the magic that got him to #1 in the past. His new album Embrace may be enough to push him back to #1 yet again.

5. Andrew Bayer – Andrew is a wildcard pick but his productions and shows are outstanding. He is so influential at Anjunabeats that he might as well be the 4th member of Above & Beyond and he deserves more recognition.
James – Writer
1. Lee Burridge – Lee Bu is the biggest reason I am into house/techno. I was introduced to his 2012 Burning Man Robot Heart sunrise set in the middle of 2013 when my love for trance was waning. His melodic core sound completely blew me away and gave me a huge appreciation again for sets that tell a story. Since then, I've seen his sunrise set twice on the playa and have helped shaped my musical tastes to what they've developed into today.

2. Above & Beyond – They're just in a league of their own. Playing acoustic sets and performing a yoga set. That's unheard of for an electronic music group. Their latest album 'We Are All We Need' has slowly grown on the masses, essentially being an extension of 'Group Therapy' has produced hit after hit along with some incredible remixes. Don't forget about the deep side of the label either. Creating a very unique organic sound that isn't easily imitated in the house/techno realm.

3. ZHU – While the mask has finally been taken off, Steven Zhu has continued to keep his main focus on his music. With his freshman album set to debut soon, 2015 has kept up the hype for the young artist with an incredible campaign earlier in the summer for his European dates and a stunning BBC Radio 1 afterhours mix that featured a few IDs that can only be speculated as new material from the former mystery man himself.

4. Eric Prydz – From his ASOT set at Ultra 2015, mutliple singles, 3 EPs that span over 10 years time and the first Eric Prydz (not Pryda) album on the way which knowing Pyrdz, won't disappoint in the slightest, this veteran has remmerged as a powerhouse in 2015.

5.  Bonobo (DJ set) – This is a total wildcard choice. While being part of the band first, his DJ sets are impeccable. Often outshining and outperforming house and techno DJs at their own game. Having an incredible grasp of building a set on the fly, his inept ability to read a crowd is what's lacking from a lot performances these days.
Will – Writer
1. Tinlicker – Being able to breath new and unique life into a genre as old as techno is no small feat, yet 2015 has been one of the biggest years for Tinlicker yet which goes to show these guys have something special.

2. Soul Button – Intimate and engaging all at once, Soul Button's flavorful touch on the house genre will always keep me coming back.

3. Lane 8 – He's too good.

4. Judah – officially making the jump from the deep house after parties to main stage anthems, its great to see how far these guys have come since their bootleg remix days last year.

5. Koan Sound – Cause theres no artist i listen to while I'm not on the dance floor than these guys.
Luc – Writer
1. Ilan Bluestone – Ilan has been pushing the envelope with trance and reinvigorating the genre with a fun electro twist. His music is perfect for any club venue.

2. Markus Schulz – This guy has probably played more 12 hour sets than the next 5 DJs combined. He is a trance legend and needs more recognition in the vast world of EDM.

3. Claude Vonstroke – The Dirtybird bossman has niche sound accompanied with unique events such as DB BBQ & DB Campout. This helps put him in a league of his own.

4. Eric Prydz – King of the ID, Prydz's live shows always are always a well thought-out journey. His EDC LV set blew everyone's mind after he dropped "Opus". Also he DGAFs about anything but his music.

5. Jack Ü – They have the most clout, power and influence in EDM. They are more than artists, they are icons and push the limits with their music. Almost every song in their latest album is unique and different
David – Writer
1. Bassnectar – Lorin had a huge 2015, dropping an album, mixtape and headlining seemingly ever festival. While 'Into the Sun' may have been lighter than his fans hoped for, it tells a coherent story as only Bassnectar knows how.

2. Madeon – The wunderkind producer dropped the album of the year with 'Adventure.' Fans who loved Porter's 'Worlds' will be delighted by 'Adventure,' which is jam-packed with beautiful, impeccably producing music.

3. Porter Robinson – Since we are only judging artists off this year, it is hard to justify giving Porter the number one spot. 'Worlds' dropped last year, but it continues to show its influence all across electronic music. The upcoming Worlds remix EP exemplifies this, with countless extremely talented emerging artists set to take on the album.

4. Eric Prydz – Prydz had an absolutely massive 2015, dropping 2 Pryda EPs thus far. He also dropped 'Opus,' which is possibly his magnum opus. As if all that wasn't enough, he still has one more Pryda EP set for September with his debut album to be released in October.

5. Above & Beyond – This beloved group has the most positive branding in the world, focusing on spreading peace and love through the group therapy of live music. They released their album 'We're All We Need' this year, which is touching and emotional throughout.
Morgan – Writer
1. Gesaffelstein – I would never pin myself as a techno person, but after I saw the "dark lord of techno" DJ live for the first time I was instantly hooked and immediately inspired by his undeniably unique and understated musical attitude. He stole my heart at Hard Day of The Dead and then stole the show at this year's Coachella with his infectious musical persona that seems to radiate and encompass the entire audience: starting from his overall music style, song choices and seamless transitions, to all the visual aspects that go along with his performance; from his statement-making black and white lights and LED screens, to his classic suit and cigarette clad get up. All of these facets of his live sets marry together to translate everything he stands for as a musician and play a giant role in making a stellar overall impact that oozes out into the crowd. As a DJ, Gesaffelstein knows the perfect time to transition to and from songs, as he always keep his interactions with the music interesting and constantly keeps the audience's attention with subtly clever and cool transitions. In short, it's nearly impossible not to get completely sucked into his DJ performances, no matter what style of music you're into.

2. Truth – For those who think that dubstep is a thing of the past, look no further than Truth to be proven wrong. They re-upped their earth shaking "Truth Chronicles" mix series earlier this year and have appeared on multiple lineups throughout the globe in 2015: from their own headlining tour, to opening for other bass heavy acts, as well as on a bunch of big festival lineups. Truth never fails to keep it authentic, as they embrace their love of dubstep to the fullest during their live sets, so getting a chance to see them DJ is quite the treat. Truth are arguably today's pacemaking dubstep DJs that aren't afraid to hold it down for the original dubstep scene. And if you're lucky enough to catch a Truth set, be prepared for loads of fresh, unreleased dubstep tracks, classic Truth songs, and even more classic OG dubstep tunes, all of which are woven together in head spinningly pristine ways.

3. G Jones – Nor Cal's low end, up-and-comer, G Jones, has been making huge waves in the bass music scene this past year by opening for huge shows with Bassnectar, releasing a brand new mix and EP for free, and collaborating with DJ Shadow under the alias Nite School Klik. It's not only his unique twist on future bass and trap inspired productions that have gotten people talking; but his insane technical prowess as a DJ. His love for the music is apparent almost instantly and stays constant throughout the entire duration of his performances, as he never loses his high energy and excitement for the tracks he's spinning. He's known to DJ mostly all original productions during his sets, which allows him to really dive into his live shows to the fullest and highlight, work, and weave each track together in the best ways possible. Seeing a G Jones set is a sure fire way to unlock your inner swag, no matter how deep his music has to dig for it.

4. Flying Lotus – FlyLo is one of the most unique electronic acts I've come across in a while, and on a very deep level. You never know what you're going to get when it comes to one of his live show, but it will always be 100% Flying Lotus and 100% creative genius. What makes him stand out to me so much is the fact that he's extremely confident and solid within himself musically; he does it like no one else does or can do, and he portrays that in one of a kind and statement-making ways, which brings a rarely felt, personable aspect to his live performances that's hard to reject. He's definitely an outlier when it comes to his musical and visual aesthetic, which makes him such an intriguing delicacy. But if you're open to letting go of all expectations and letting his live sets take you on a journey through his brain, you'll instantly be enraptured by what he has to deliver; which is the truest form of himself as an artist.

5. Liquid Stranger – Although Liquid Stranger has been in the scene for quite some time, his versatility and newly tapped sonic explorations have made him stand out a lot to me this year. He's not afraid to throw together a mix or a live set that's off the wall or unexpected to his fans, as he's delivered compositions on all ends of the spectrum this year. I'm usually pretty stubborn and unconvinced when an artist I love tries to pull something musically uncharacteristic, but he definitely stands as the exception, because I know it's coming from a genuine place as a musician. He released two Infusion Mixes this year with insanely eclectic tracklists supplemented by his pristine DJ abilities, and his Shambhala set this past year was a mix of downtempo and heavy bass that I've never come across before in my life. I came to find out later that he produced 40 minutes of unreleased material specifically for that set. After this year, it's become even more apparent to me that Stranger is an overachiever and is meant to be in the business of electronic music making and DJing.
Peter – Writer
1. Eric Prydz – It is safe to say that Eric Prydz has been making 2015 his bitch. With an onslaught of EP releases that span across all of his different monikers and an official Eric Prydz album on the way, the Swede has been distancing himself away from the pack. Prydz stays true to his sound and to himself, and for that reason he should be number 1.

2. Claude von Stroke – Like Elliott, said it's been a great year for Dirtybird. There's something special about Dirtybird that differentiates itself from the other labels out there. The deep reverberating bass in Claude's songs strikes a chord to his listeners that makes it hard not to start grooving to. His shows are fun just as his sound and it would be a crime for his work to go unnoticed.

3. Porter Robinson – Okay so Worlds may be a year old now but I think that the year has given the scene enough time to appreciate what it has done for the electronic music scene. There is a whole legion of emerging producers that are creating eclectic, out of the box, and unorthodox styles of music and Porter has hands down played a role in this.

4. Kaskade – It is very rare for Kaskade to release a track that isn't top notch. Even when experimenting into different genres, there's is a certain 'Kaskade' ethos that comes with it, just listen to Never Sleep Alone. The man can play his most up to date tracks in his bigger shows but isn't afraid to go deeper in his redux sets. Kaskade's shows are emotional, powerful, and full of energy and with a new album on the way, there is no doubt that his momentum will slow down anytime soon.

5. Carl Cox -Cox is king and will forever be king. The magazine poll at the end of the day is in fact called the DJ mag, and when it comes to spinning on 4 diffferent CDJs, no one does it like Cox does. His sound is timeless, and when all of the different phases of EDM fade away, Cox will still be there, standing above the rest, where he's been the whole time.