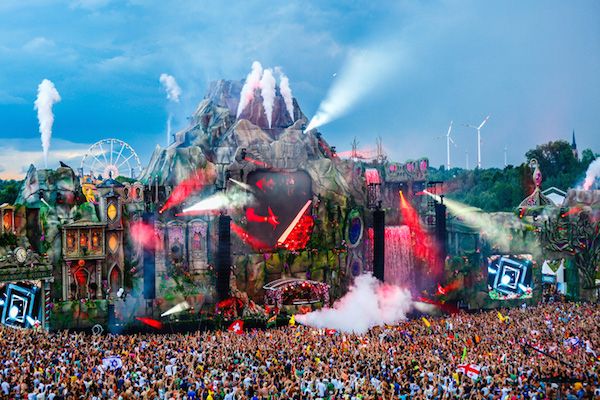 The festival arms race is heated right now. The market is becoming saturated by the month, every event is trying to differentiate itself from hundreds of others, and the event promoters have to battle one another to attract fans to attend their festival over the others. Although it is only three years old this September, TomorrowWorld takes full advantage of its world-renowned name and proven concept due to its mother festival in Belgium. Last year, TomorrowWorld was only in its second year but it blew all expectations out of the water and went down as one of the year's most acclaimed festivals.
Looking to have history repeat itself, TomorrowWorld is continually announcing new features, artists, and activities for its 2015 edition to entice fans to head to the Chattahoochee Hills for three days of celebration. After experiencing last year, we knew that we had to come back and TomorrowWorld keeps making us feel like we made the right decision with every announcement. To give you a clear sense of our love for TomorrowWorld, we've decided to break down 10 things that we can't wait to see at TomorrowWorld 2015 to show exactly why this festival is in the upper echelon of international events.
1. The Main Stage
Every year, the Main Stage at TomorrowWorld ceases to amaze us. The festival is always one year behind its predecessor, Tomorrowland, where the event creators transport the Main Stage used at Tomorrowland to TomorrowWorld to allow the people attending the US event to have the same pleasure as those overseas. Despite what the stage looks like, we already know that the design and art is going to be the best of the best, and will be our portal into a three-day adventure to take us through a magical land.

2. The Activities (CYC Spin Classes, Yoga, etc.)
For the workout junkies coming to Georgia and staying in DreamVille, you won't have to worry about gaining a couple extra pounds over the weekend because TomorrowWorld will have a plethora of activities for you to sweat with. From Yoga to Pilates to spin classes, the activities in DreamVille will have your heart-pumping and your body energized to seize the day. We can't wait to see what the activities have in store.
3. The L!VE stage
This year's TomorrowWorld will host its first live act stage ever called the L!VE stage. The lineup has already locked in names like Porter Robinson, Rudimental, and Big Gigantic to play, but the support is sure to be stellar as well. In addition, TomorrowWorld is allowing acts to submit originals to earn a slot to play on the L!VE Stage. With the growing number of live acts entering dance music, this is sure to be one of TomorrowWorld's sweetest treats. Check out more information on the competition here.
4. The People
Anyone who has ever been to a festival knows that the people are one of the best parts. You meet new friends, run into old friends, and/or just simply look at the joyous atmosphere everybody creates. Event creators and promoters can try all they want to create the best experience possible, but it's really the people that contribute to the festival.
5. Marketplace
TomorrowWorld always strives to make its Marketplace different a full of good options to not even refuel, but also shops to take a break a browse in. From Solar Gadgets to the Art Collective to Gourmet Hamburger Hut, you may get stuck in the Marketplace longer than you expect and eating more than you want to.
6. Breakfast Beats
What better way to start your festival than power breakfast foods, a morning cocktail to get loose, and a DJ to provide the beats before you even hit the stages? Well, that's what TomorrowWorld will be delivering with Breakfast Beats at DreamVille every morning. Its a simple but genius concept to really start the morning how every raver wants to.
7. The First-Ever TomorrowWorld Tropical House Stage
Tropical house has taken the world by storm. With Thomas Jack as the knighted curator by Pete Tong, the Australian powerhouse will be hosting the festival's first-ever tropical house stage hand-picked by him. From the lineup, we can already guess that Klingande, Bakermat, Sam Feldt, and Matoma will be there with sun-soaked beats galore. We've heard rumor it will be taking place on a boat on the festival's lake so this is definitely going to be a spectacle we can't wait for.
8. DreamVille
DreamVille is the mystical camping grounds where the People of TomorrowWorld set up their tents or return to their cabins to rest every night. Every year, there are more and more activities that entice people to stay within the confines of the grounds, but its comfort that really attracts people. Whether your pitching your own weekend abode or living in a luxurious Dream Lodges. It won't even feel like camping in Georgia. You will feel as if you were transported into a whole different world.
9. Kevin Gillespie's Chef Partnership
For the select bunch that were able to snag VIP tickets, the recently announced chef partnership with Kevin Gillespie is a feature that is truly unique. With a 10-course meal, picnic basket, and three different menus for all three days, VIP ticket holders will be eating like kings with the best view in the world – the glorious Main Stage.
10. The Unparalleled Lineup
If there's anything that draws us to TomorrowWorld, its the lineup. It breaks down barriers and expectations every year. This year, the Phase I headliners are stacked to the brim with dance music's most legendary figures like Bassnectar, Kaskade, Hardwell, Martin Garrix, Tiesto, Jamie Jones, and many more. The undercard selections also prove that TomorrowWorld is looking not only at the present stars, but the future ones as well.
With these 10 reasons, there's no reason you shouldn't have a ticket. So join us in the three-day event of a lifetime at TomorrowWorld. For more information, check out its website and be sure to 'like' TomorrowWorld on Facebook.