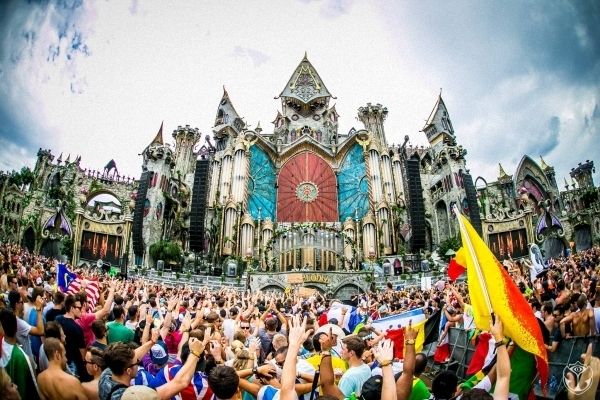 With all of the amazing festival stages out there these days, Tomorrowland manages to steal the top spot year after year. After some opined that Ultra and EDC Vegas both failed to top their 2014 stages, Tomorrowland in Belgium has raised its own bar once again. This year their theme is the fantastical kingdom of Melodia. Think Game of Thrones with music and happiness instead of death and betrayal, or the famous Disney castle times 10. To that end, the mainstage this year is a towering medieval castle, which is taller than any stage before it while also being very wide.
Tomorrowland consistently wows with its stages because of the awe-inspiring attention to detail which creates a true fantasy playground. The Castle is so intricate that it has rooms up top with views out onto the crowd, where Tomorrowland is hosting its livestream interviews. ID&T also wins such loyal support because they seemingly think of everything, with fans reporting that the festival even installed small urinal troughs right at the mainstage so guys don't even have to leave for the restroom anymore. When night falls, the stage will truly come to life in a wash of color and lasers, complemented with what has been reported as enormous waterfalls. In the upcoming months, both Atlanta and Brazil can look forward to witnessing 2014's outstanding key to happiness stage (the Volcano stage is either being retired or might be used in an a speculated new location).
Check out the Tomorrowland live stream here, or watch Beatport's broadcast below.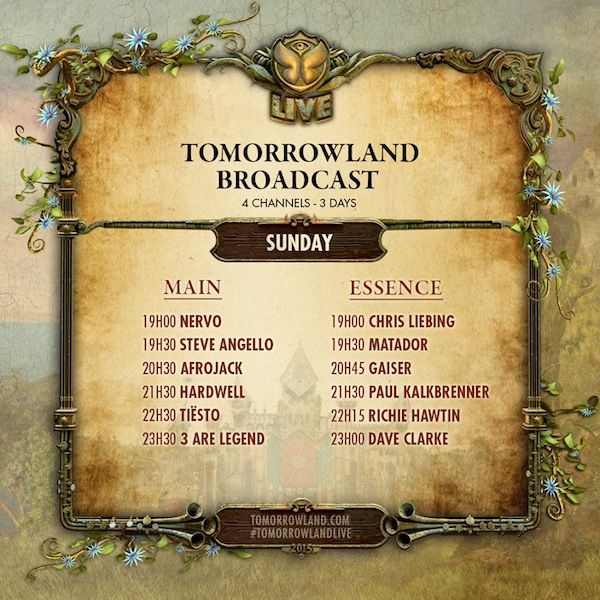 Nervo – 1pm EST, Steve Angello – 1:30pm EST, Afrojack – 2:30pm EST, Hardwell – 3:30pm EST, Tiësto – 4:30pm EST, 3 Are Legend (Steve Aoki, Dimitri Vegas & Like Mike) – 5:30pm EST