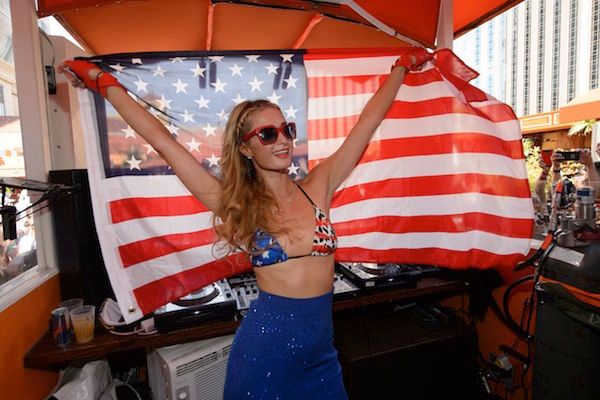 Much has been said about Paris Hilton's DJ career. Everyone seems to have an opinion about the hotel-heiress-turned-reality-star and tabloid fixture breaking into the dance music industry, including some heavy hitters in the field: both
deadmau5
and
Paul Oakenfold
have expressed skepticism about her motivations behind becoming a DJ, amongst other criticisms. As a result, Paris has made headlines the world over, be it over the
legitimacy
 of her shows,
mau5
 requiring vast sums of money to even share the stage with her, or even petitions to have her
stopped
.
However, since Hilton entered the scene a few years ago, she has been, as she would say, "killing it." She's played at world-class nightclubs, headlined America's biggest festival, Summerfest in Milwaukee, and has held a residency for the last three years at Amnesia in Ibiza. Despite her progress, Hilton seems to catch more flak than any other currently working DJ. Detractors have questioned whether Hilton actually DJ's during her performances, accusing her of simply pressing play and primping for the audience, and claiming her celebrity status gave her an advantage over other artists; understandably so though, for the most part people haven't been given much information to support otherwise.
This Fourth of July, we had a chance to check out Hilton perform at Las Vegas' TAO Beach day club for ourselves. Hilton did play live throughout her entire hour and a half set, using a Traktor controller and two CDJ's. Hilton played everything from your requisite progressive anthems, to electro bangers, a bit of trance, and more than a little trap. The song selection was fun, but did veer a bit close to "NOW: That's What I Call EDM" territory at points, making more interesting and offbeat selections like Don Diablo's "Anytime" and the heavy helping of classic rock Hilton managed to incorporate even more welcome. Fortunately for Hilton, the crowd wasn't the most demanding musically, and ate up every drop, keeping the venue packed until she closed out the day.
Before her performance, EDMTunes had the chance to speak with Hilton about everything from her dance music inspirations to her much publicized spat with Steve Angello in 2009. Check out Paris' (surprisingly candid) answers to our questions below:
You told Billboard that you've been going to raves since you were 15, do you have any particularly noteworthy performances or artists you saw during those early years that really helped formulate your love for dance music?
"Yea, back in the day Daft Punk used to kill it. Amazing. They're still an inspiration to me to this day, they're amazing."
You started off as a fan before moving into your more pivotal role as an electronic dance music artist, how has moving from an industry outsider to an insider shaped the way you look at the music? Do you have more of a perspective coming from all of those years as a fan?
"Definitely. I've been listening to this music since I was a teenager; I've always loved it. I go to every single music festival, and I love this music like nothing else. So, to be on stage and play all my favorite songs and to see everyone having such an incredible time, the energy that's coming from the people, its just indescribable. There's nothing like it. I love DJ'ing more than anything I do."
Your entry into the scene caused a bit of controversy and resistance, why do you think people were so quick to judge you as a DJ and how do you respond to these criticisms?
"You know, I could totally see their point. If I hadn't been to one of my shows before and I saw "Oh, Paris Hilton is gonna be a DJ," I would understand how people, if they haven't been to one of my parties, would be critical. But I think, and I know, that all these people that do come to my shows, when they do come, they're like "Wow, I'm so surprised, I had no idea. You're incredible. I can't believe this. This is amazing. I had the time of my life." Some of the biggest and best DJ's come to my shows in Ibiza. People I really respect. So, to hear that coming from those kinds of people makes me feel so proud. I think I've really proven all the haters wrong. Now I'm coming back for my third year as resident DJ at Amnesia, I'm going to be there for the next three months playing every Saturday. So, I think I've definitely proven myself over the past five years."
Dance music has grown into a booming industry recently, and you have your own business empire: clothes, TV shows, perfumes and more. Do you think your entrepreneurial and branding skills have contributed to your success as a DJ?

"Definitely, sure. I think its not only about the music; I love the music, but its also about branding it, having an amazing party with it, just like my Foam & Diamonds party. That was such a huge hit the past three years in Ibiza that we're going to be doing them all around the world. We're talking about Las Vegas, all over Europe, the Middle East, Asia. So, its pretty incredible."
You just made your first foray into performing at festivals with Summerfest in Milwaukee. What was that experience like and how does it compare to the more intimate venues you usually play? Did you prepare differently for it?
"Yes, because it was a music festival and there were so many different acts, like The Rolling Stones, and all these different kind of people playing. So, I kind of wanted to mix in some of those artists with remixes that I found, remixes of rock & roll songs, and [I threw] in some fun songs that no one has ever heard before. It was one of my favorite shows ever. Everybody was raging. They said my stage was the most full it had been the entire week of the entire festival and I was up there with tears in my eyes just so happy and so proud."
Given your success and your experience in EDM, do you think, looking back on the incident with Steve Angello, that you now reflect a little differently on that, and how would you handle that situation, in his shoes?
"You know what, that was…I was there for my friend's birthday. I had never been to Winter Music Conference in my life. She really wanted to hear Bob Sinclair's "Love Generation." So, I asked Dave Grutman, the owner, "Can they play the song?" He's like, "Why don't you go ask the DJ?" So, you know, I was used to [that]; I'm friends with DJ AM and everybody. I always used to go up to my friends, "Oh, do you mind playing this song?" And they'd be like, "Of course." I didn't realize this is Winter Music Conference during like, Ultra, and I'm asking, you know, one of the biggest DJ's to play a song. So, now that I look back at it I'm like," Oh my god, what was I thinking? I'm so embarrassed." Actually Steve and I talked about it at EDC a few years ago. We made up; everything is cool. I totally apologized, and I felt really silly. Because I can't imagine now, DJ'ing, and someone coming up and requesting a song to me. I definitely learned from that."
Who are some of your biggest dance music influences?
"I really have always admired Kaskade. I think he's such an amazing man, so sweet, always been so supportive of me. I love his music. I think he's fantastic. DJ Chuckie is one of my good friends for years, we talk all the time. We're actually talking about doing some music together. So, he's been a big inspiration to me as well, and Calvin Harris. I think he's so talented, the fact the he writes his own music, produces it, and sings it."
Hilton's residency at Amnesia resumes Saturday, July 18 and runs every Saturday through September 12.