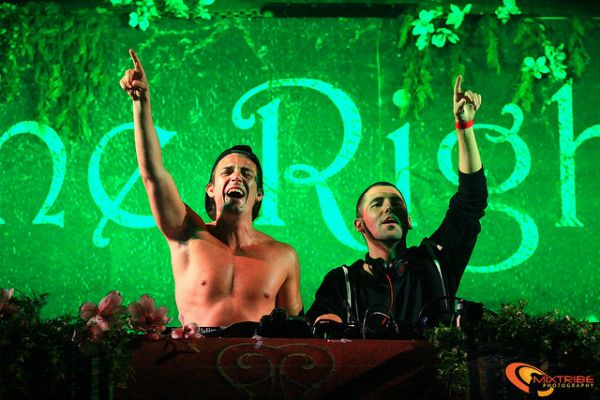 Lately it seems that a lot of folks are taking a piss on the current state of EDM. In recent weeks, influential artists from Borgore to Bassnectar and The Chemical Brothers have come out in interviews lamenting what they see as a "one-noted" genre (The Chemical Brothers) that lacks anything "new or exciting" (Borgore). Bassnectar went with a visual, drawing up a Calvin & Hobbes themed meme depicting the famous comic strip character urinating on an "EDM" logo.
Greek/Belgian duo Dimitri Vegas & Like Mike is having none of that, with Dimitri Thivaios going out of his way in an interview with BBC's newsbeat to praise the EDM scene that has made the two of them wealthy celebrities. Checking in from their summer home of Ibiza, Thivaios talked about "how great it is to be an EDM artist" in today's climate, before declaring EDM the authoritative Millennial music style:
I guess it is the music of this generation. As hip hop was ten years ago and other styles were before that so I guess that is what it is now.
He also discussed the kinetic energy of the group's fans:
It is just the energy of massive crowds that just really appeals to us. We really love, like, the giant mass of movement, we love every minute of it.
Head on over to newsbeat to read the full interview.