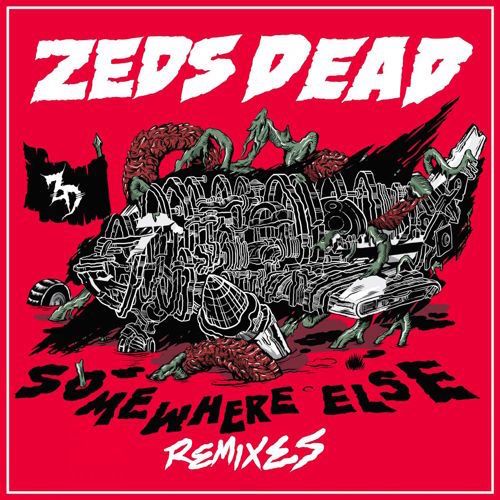 Since the release of 2010's reggae-dub hybrid, 'Rudeboy', Toronto bass music duo, Zeds Dead, has become a world renown name in electronic music. First skyrocketing into electronic music's spotlight with their head-turning take on deep, dark dubstep, DC and Hooks have been know to destroy dance floors across the globe with dangerously bass heavy dubstep, hip-hop oriented tracks and undeniable dark swag. But, as their career career has expanded, so has their curiosity for new sounds and genres; as their attention seems to have shifted away from heavy-handed production towards the 128 stylings of deep house, as of recently. After the release of 2013's mind numbing Hot Sauce EP, fans were more than surprised to hear their subtle conversion into the 128 realm with a slew of deep house inspired originals, remixes, and, collaborations with artists like D'Angelo Lacy and Oliver Heldens; not to mention live sets thirsting for healthy doses of 140 filth amongst all the 128 bouncing. But I digress…
After a year of trying to wrap our heads around the re-vamped style of our beloved bass duo, Zeds Dead surprised us with a VIP whose sound rushes over us like a wave of grimy nostalgia. Found on their forthcoming Somewhere Else (Remixes) EP is their especially heavy VIP of 'Hadouken'; an adrenaline-pumping, revving journey into heavy hitting bass music. With a dramatic build up and a drop that induces immediate bass face,'Hadouken (VIP)' is a temporary thirst quencher for even the biggest old school Zeds Dead fan.
Make sure to grab Zeds Dead's 'Hadouken (VIP)' along with 'Collapse 2.0' and 8 official remixes on their Somewhere Else (Remixes) EP, out 5/12. The forthcoming remix pack contains two track from the duo as well as thunderous remixes of Somewhere Else's five most popular tracks: 'Lost You', 'Hadouken', 'Collapse', 'Where Are You Now' and 'Bustamove' by Valentino Khan, Sleepy Tom, Kove, Neon Steve, Hunter Siegel, Nebbra, Memorecks and MSCLS. For those who dig Zeds Dead's deep house makeover, be sure to check out MSCLS's bouncing remix of  'Bustamove' below.