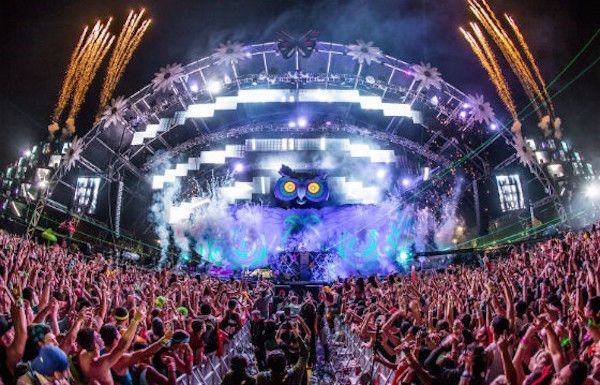 With the start of the fourth annual Electric Daisy Carnival New York or rather, EDC NY, a merely upon us, the buzz has officially begun for what is sure to be the premier dance music festival in the North East region this memorial day weekend. As some of the biggest talent in the world is set to descend upon Met Life Stadium once again, we are here to give a little insight into what we believe will be the top acts of this upcoming festival.
As always creating a festival schedule may be one of the most tedious tasks you are faced with when heading to any festival, however we have pooled together the following list in order to help you narrow down your EDC NY must see performances.
1. Calvin Harris
After absolutely blowing the roof of the Circuit Ground stage in 2014, the British sensation looks to bring his talents back to New York for a much anticipated headling set. With this most likely being one of his few and far-between North East region appearances during this festival season, make sure you head over to Circuit Ground on Sunday night to see this magician at work.
2. Bassnectar
The beauty that is Lorin Ashton, also known as Bassnectar, has been cultivating a fanbase for as long as we can remember. Creating magic with every release, his musical creation spans no specific genre. During his 2014 set, surrounded by an 80,000 person empty Metlife Stadium, and thousands of concert-goers on the field, the memories that were created that night still linger in the minds of those present to this very day. Bassnectar is another headliner for this years event, and is definitely stop by the Cosmic Meadow on Saturday, even if just for a short time.
3. Kaskade
After curating the largest crowd in Coachella history, the man, the myth, the legend, Kaskade returns to the East Coast for one of the most anticipated sets of EDC NY. Set to take the stage before or after Calvin Harris (depending on the schedule), the Grammy nominated producer is sure to  cap of your Memorial Day Weekend on a high note. Side note: if you haven't checked out his newest single "Never Sleep Alone" yet, see below and definitely make sure you are at the Circuit Ground Stage on Sunday to see this sure-to-be incredible set.
4. Andrew Rayel
Being hailed as the future of trance music, and the modern day Mozart, the musical genius from Moldova is back for his second dose of EDC NY. After a mid-afternoon Kinetic field set, that was filled high energy, trance, and progressive house, the musical journey that Rayel took the crowd on that day was a highlight of last years weekend. Set to reappear on Kinetic Stage on Sunday of this upcoming week, make sure to check out Andrew Rayel to 'find your harmony'.
5. Luciano
Knowing that the Cadenza record label boss, Luciano, is going to be making an appearance at EDC NY, is not only amazing, but absolutely legendary. To many main stream listeners, this name may not mean much, but for those who know about Luciano, this should definitely be one of the biggest names for you on your EDC NY lineup. Set to take over the neonGarden on Sunday, definitely take some time to step away from the MainStage and check out the pulsating deep house tracks that Luciano will be spinning. It will definitely be worth your while!
6. Eric Prydz
After appearing at EDC NY back in 2013, the Swedish superstar will make his highly anticipated return to Kinetic Field this year. What made Prydz performance so unique almost two years ago was his ability to effortless blend his three different DJ monikers into one set, Cirez D, Pryda, and Eric Prydz. For most, all three DJ types aren't exactly what they want to see (which is why a lot of the younger crowd left that day), but watching that set was something to marvel at. It is very possible that Prydz's set will overlap with the likes of Kaskade or Calvin Harris on Sunday, but you should definitely make time to see Eric Prydz at work.
7. Martin Garrix
After pulling double duty at last years EDC NY, Martin Garrix continues to rise to the top as one of the most outstanding producers in the world. Finally hitting the good old age of 19, it's crazy to think how far Garrix has come in such a short amount of time. With his newest hit "The Only Way Is Up", in which he collaborated with Tiësto, sitting atop the global dance music charts, his DJing capabilities are almost as parallel to his incredible production abilities. Check Martin Garrix out at the Kinetic Field on Saturday.
8. Tchami
What was once thought of as just a phase in dance music, has turned into a global revolution of the future dance music movement. With everyone seemingly dipping their hand into this genre-specific cook jar, Tchami continues to rise above the rest in his production abilities of future house. With his first release coming off of his EP "After Life", having dropped less then two months ago, this french producer shows no signs of slowing down. His set is a must see at EDC New York, as he is set to perform on Sunday over at the Circuit Ground Stage.
9. Flosstradamus
The HYDBOYZ are back, and are this time taking their talents to the city that never sleeps. What Flosstradamus has been able to accomplish over the past several years is nothing short of spectacular. Effortlessly blending the likes of dance music with Hip Hop, has skyrocketed their popularity, as well as their massive following. Be sure not to miss this duo at EDC NY as they may easily go down as one of the most memorable sets of the weekend.
10. Carl Cox & Friends
The name speaks for itself. What Carl Cox has accomplished for dance music over the past several decades has truly been remarkable. For most, Carl Cox has been doing this for longer than we have been alive, but continues to stay at the top because of his dedication and love for the genre we all know and listen to on the regular.
Did your EDC NY must see acts make the list? Leave us a comment and let us know what you think.
Tickets for EDC NY are still available ranging from 2 day GA to 2 day VIP, and for those who are not able to attend both days, single day passes are also available for purchase. Don't sleep on EDC NY this year, it's sure to be one hell of a show!
For tickets click here!