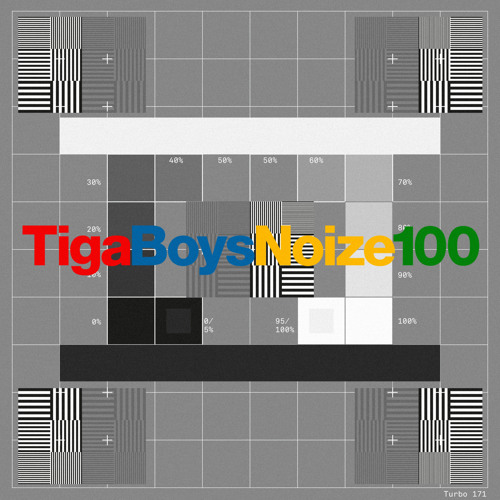 Tiga X Boys Noize – '100'
This collaboration between Tiga and Boys Noize is the result of a chemistry that has been in the making for ages. Tiga and Boys Noize originally started as label mates on Gigolo records and are often known for pumping out remix after remix of each other or playing late night back-to-back sets. This is the first release featuring the two together and it doesn't disappoint.
Both producer's influences shine through quite clearly in this record: the unforgettable Boys Noize drum kits and acid feel, the pop-gone-underground vocals that Tiga is so keen on using supported by the persistent catchy bassline. These two influences complement each other creating a piece of work that is sure to get attention outside of the underground scene.
Both Boys Noize and Tiga have been trying to break the barriers of genre in the EDM scene. This can be seen most obviously from Tiga's 'Bugatti' that swept the UK into madness late last year. The same pop influenced vocals turned into a perfect underground sample for this affair.
'300' is available now in the U.K. upon pre-ordering the E.P through iTunes. North America is soon to follow. Also included in the E.P. is 'Jam#1' which gives a detailed account of just what exactly Boys Noize can do with a drum machine. Tiga will accompany Boys Noize on his 10th anniversary tour with the following dates:
Tour Dates:
Friday, 1 May 2015 Fuse, Brussels, Belgium
Saturday, 2 May 2015 Electric, Paris, France
Sunday, 3 May 2015 Heaven, London, UK
Thursday, 21 May 2015 Hoxton, Toronto, Canada
Friday, 22 May 2015 New City Gas, Montreal, Canada