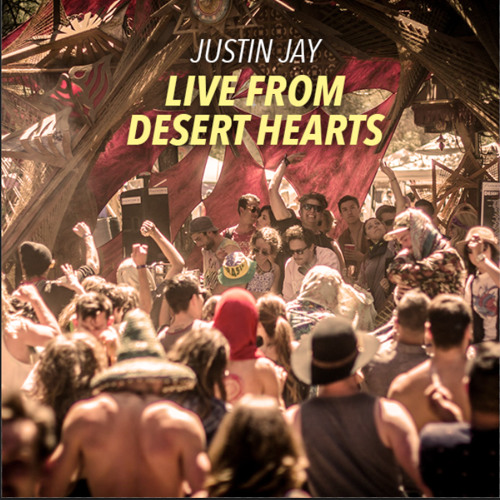 Justin Jay – Live From Desert Hearts
Twenty-one-year-old producer, Justin Jay, is about to have a busy summer. Just weeks after making his Coachella debut at The Do Lab stage during weekend 1, the Dirtybird protege is set to hit another important milestone – college graduation. As a college senior, Justin Jay's culminating year at the University of Southern California was uniquely his own – in addition to all of the responsibility of a typical student, Jay was tasked with playing shows as far as New York City, with the likes of Gorgon City and his fellow dirtybird members, Justin Martin, Kill Frenzy, Eats Everything and more. A week before his debut in Indio, the youngest dirtybird played a headlining slot at the rising Desert Hearts festival, in the Los Coyotes Indian Reservation, and lucky for us, he's made his set available on SoundCloud.
Like his entire college experience, Justin Jay's trip to Desert Hearts was atypical. Rather than making his way down to the festival on Friday, Justin Jay set off for Las Vegas on Friday at 6 AM, for his first, and last, college fraternity formal. After spending a night in Sin City facing his fears (in the New York New York roller coaster) and enjoying himself at Disclosure's Wild Life show, Jay set off for Los Coyotes, making it to Desert Hearts just in time for his three hour set.
Justin Jay – Live from Desert Hearts | Download

On his set, Jay showcases why he's considered by many to be one of the underground dance scene's brightest stars. The mix features Jay's signature house style, as it highlights an eclectic array of jams prepped specifically for the festival, and newer/unreleased productions like "You Give Me Butterflies," "Cheese," and "Karma" with his college best friend and musical collaborator, Josh Taylor. Peep the Desert Hearts mix above and download it here (tracklist after the jump), ahead of his seven stop tour in Australia this summer!
Tracklist:
0:00 – Dene Antony – Enjoy Detroit
1:30 – Claude Vonstroke – Barrump
6:15 – Dakar Carvalho – Woobly w. Breach – Let's Get Hot
9:30 – Justin Jay – You Give Me Butterflies
14:30 – Paul Simon – Diamonds (Âme Private Edit)
20:30 – Kolsch – Zig w. Scuba – Adrenaline
26:30 – Massimiliano Pagliara – Sensation 9 (Marco & Orpheo Remix) w. Waka Flocka Flame – Grove St. Party
32:00 – Maceo Plex – Conjure Dreams
36:30 – Kill Frenzy – H.O.U.S.E.
40:00 – Claude Vonstroke – Make A Cake
44:00 – D4L – Laffy Taffy (Justin Jay Edit)
48:30 – Chemical Surf & Illusionize – Bass
54:00 – Justin Jay Feat. Josh Taylor – Karma
59:30 – Dubtribe Sound System – Equitoreal
64:15 – Madioko N Rafika – Ellelli (Kalabrese Remix)
1:09:00 – Norken, Deer – Remember That Feeling
1:11:45 – Deniz Kurtel feat. Jada – The L Word (Guy Gerber's Countryside Remix)
1:15:15 – Code 718 – Equinox (Henrik Schwarz Remix – Dixon Edit)
1:20:00 – Scott Grooves – Movin' On
1:23:30 – JV – Edit Channel XXX
1:26:30 – Joe Smooth – Promised Land
1:29:45 – Ulf Bonde – Brother Piña
1:33:30 – Super Flu & Andhim – Scuzzlebutt
1:38:30 – Matthew Styles – Hot
1:41:30 – Daft Punk – Revolution 909
1:44:15 – DJ Sneak – Keep Groovin (Ian Pooley Mix)
1:48:00 – Markus Homm, Mihai Popoviciu, Jay Bliss – Bis Co
1:51:00 – Nic Fanciulli – Work the Week
1:53:45 – Jodeci – Freek' N You (MK Dub)
1:57:00 – Dale Howard – Thinkin
1:59:30 – Audion, Tiga x Ron Costa – Gez Dancing (Eats Reebeef)
2:02:30 – Eats Everything – Vertigo w. MTD & Dutty Dan – Stranded
2:05:45 – Billon Feat. Maxine Ashley – Special (Glimpse Remix)
2:09:30 – Justin Martin – Molokini w. Julio Bashmore – Battle For Middle You
2:14:00 – Formally Unknown – Tribalz
2:17:30 – Pete Graham & Lorenzo – Marina Gasolina (808 Refix)
2:20:30 – Justin Jay – Cheese
2:24:15 – Justin Jay Feat. Josh Taylor – What Do You Want