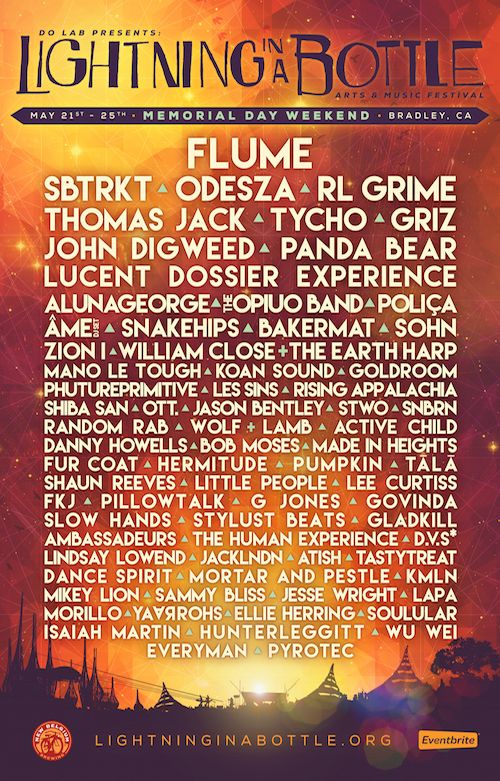 The Do Lab's, 'Lightning In A Bottle', is one of a handful of California's unique and long running transformational festivals, that not only promises to deliver festivalgoers a multi-day experience full of top notch electronic acts, but also promotes an enhanced quality of living by advocating for sustainability, social cohesion, personal health, and creative expression. With one-of-a-kind installations, stellar performance art and over 100 innovative musical acts spanning a multitude of genres, as well as opportunities to engage with yoga and dance classes, motivational speakers and health-conscious workshops, this weekend's 10-year anniversary of Lightning In A Bottle is shaping up to be a festival experience for the books, and we were lucky enough to catch up with one of it's co-founders, Dede Flemming, to discuss the details.
For most festivalgoers, the lineup alone is enough to gauge the excitement of a multi-day festival experience, but Lightning In A Bottle stands as a unique exception; it places equal emphasis and attention to its non-musical aspects, like its powerful mission towards environmental sustainability and green education and awareness. Dede elaborated on this further by explaining,
"It was never, ever about just the music with Lightning In A Bottle. It was always a combination of the art and the sustainability and then we started ushering in the yoga and meditation and different classes and workshops and stuff like that. So it was always our goal to kind of put those other elements on an equal playing field as the music. It's hard but it was always our goal to really go big with the other aspects of it for no other reason then they make the events that much more unique and special, and to be able to take something away other than a good time on the dancefloor is really important to us."
Similarly, when asked to explain what festivalgoers should expect to take away from participating in such a thoughtful festival experience like that of Lightning In A Bottle, he described,
"It's very much about coming and learning new tools and being inspired in a new way to go back and make that a part of your life. If you want to come in an shed your skin when you come through the gates, great, do that but then don't leave here and forget everything you just experienced. Go out, and treat the people at home the way you would treat people at the festival, because people are always kinder and more gentle here, so do that when you leave here, you know, take the different workshops and different things that you learn and go plug them into your everyday life and also take the inspiration home with you. Be inspired, be wowed by what you see here and know that you can do that stuff too. It's not just about having a good time. it's about taking that inspiration and kind of making it a part of who you are."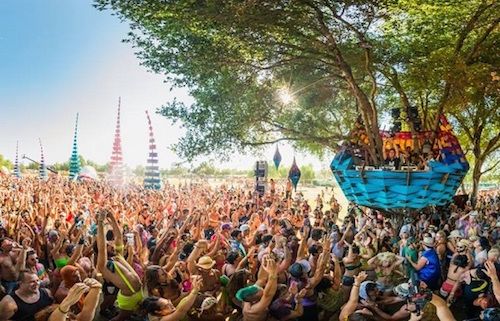 The DoLab is not only responsible for producing and curating Lightning In A Bottle, but is an exciting and influential name at Coachella, as the festival annually hosts its highly reputable and beloved DoLab Stage. While these two festivals may appear to display entirely different dynamics and personalities, Dede was able to shed some light and illustrate striking connecting points between the two by articulating,
"It does bother me sometimes to hear people say 'ah Coachella, fuck that place, those people suck.' Some people take the whole festival, Lightning In A Bottle community experience and they hold that up high, and they hold it up too high, and they look at other people and they look down on them, and I hate that, that's not what this whole thing is about. Sure, you get certain types of people at Coachella, but you get those same people here, too, they're just in the minority, not the majority. And they're all good people, they're just trying to express themselves in different ways. The thing that we like about Coachella the most is we're this weird anomaly in the corner and people come over to our area and they're like 'wow, what the hell is this? This is crazy, this music is really good, it's visually incredible' and then they just get lost and then they start to forget about the rest of Coachella and they just hang out with us the whole time and then that inspired them to maybe look at LIB and say 'hey maybe I should go there and check that out' and then they start to be inspired and then its a chain reaction."
He continued to connect the dots by concluding,
"They're a very unique festival, every festival is different, but the common denominator is people that want to come to express themselves and have a good time and each festival gives people a different opportunity to do that and there are different takeaways from each festival and I think any festival on the planet could be a transformational festival, that's the point that I would make for it. It doesn't have to be yoga, meditation, and blah blah blah to be transformational, all of that's horse shit. Transformation happens in a million different ways and it can happen at Coachella, and EDC, anywhere. It depends on who you are and what you're going into the event with and what kind of intention it is and what you leave with. So, all that said, yes, Coachella is totally different, we absolutely love it, we love being a part of that event. It got us to where we are today as festival producers. We've learned a lot from them, we get a lot of inspiration from them, and it's been a fun journey and it's neat that we get to kind of see both worlds firsthand."
While Lightning is regarded as one of the country's most trailblazing and innovative festivals, it's not infallible by any means. Due to a slew of venue changes throughout the years, varying weather and site conditions, the festival has planned to do some serious upgrading to enhance this year's festival experience. Dede divulged some details as to what types of improvements, additions and makeovers that festivalgoers can expect this year. He explained,
"We got a lot of feedback last year, and people had a great time, but they also had some struggles. It's a big venue, there's a lot of walking, there's a lot of hills, it was hot, there wasn't enough shade and we heard that. We're adding more shade, more kind of fun structured areas where people can hang out under. We're covering the main stage with shade this year, so that's gonna be a really cool shaded area. The entire Bamboo stage, which is now the Thunder Stage, which is what was at Coachella, and that's shaded. And one of the really cool things we're doing is we added three massive bridges inside the festival, so it's gonna make people's experience that much better and a lot easier."
After The DoLab's team has worked their hardest to turn Lightning In A Bottle into the massively influential and successful festival that it is today, we asked Dede to reflect on what makes him the proudest as one of the festival's co-owner and producer. He admitted,
"I'd say the fact that we're still doing it. And the fact that it has really been embraced by so many people and that people look to this as something that's more than just a party. I can't speak for all of us, but the simple fact that it means so much to so many people and they don't just look forward to it for a good time, but they look forward to it as an energetic release and also get to charge up for the year. It inspires people. That's really what it is."
Grab ticket's for this year's Lightning In A Bottle, taking place in Bradley, CA over Memorial Day Weekend here!