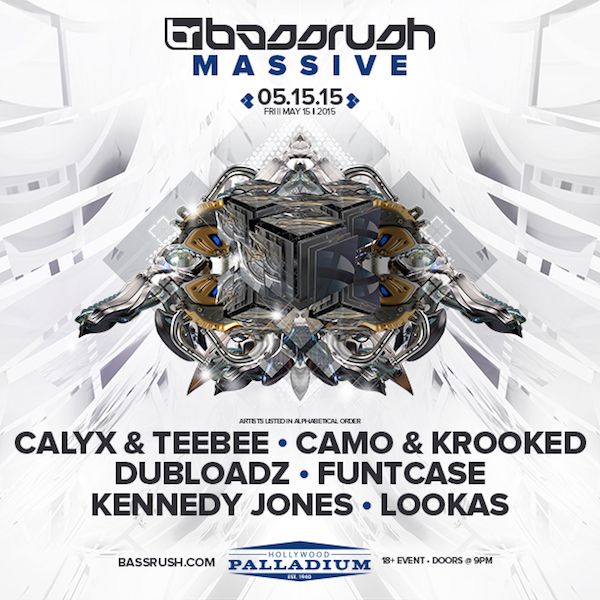 Next friday, May 15th, the party experts at Insomniac are injecting a heavy dose of bass music right to the heart of LA, with a first-class dubstep and D&B lineup that is sure to wipe the floor clean with high-octane DJing and filthy song selections. Taking place at the legendary Hollywood Palladium, Insomniac's Bassrush Massive welcomes California's most dedicated dubstep creatures to enjoy an overwhelming night of bass featuring sets from FuntCase, Camo & Krooked, Kennedy Jones, Dubloadz, Calyx & TeeBee and LooKas.
With an incredibly loyal fan and controversially raw sound, dubstep's most beloved masked madman, Funtcase, is making his triumphant return to the Palladium's Bassrush stage with an arsenal full of ruthlessly dirty dubstep and drum & bass tracks. The Circus Records' wonderboy is known for his rambunctious stage presence and unforgiving live sets that seamlessly command each well-formulated wobble, womp, rawr, and machine gun sound. And there's nobody in the room that enjoys his music more than Funtcase, himself; as his seemingly endless supply of energy and passion keeps him in constant motion as he slings his gun fingers and angry claws to the music. In short, Funty is known worldwide for working hard, playing hard, and DJing even harder.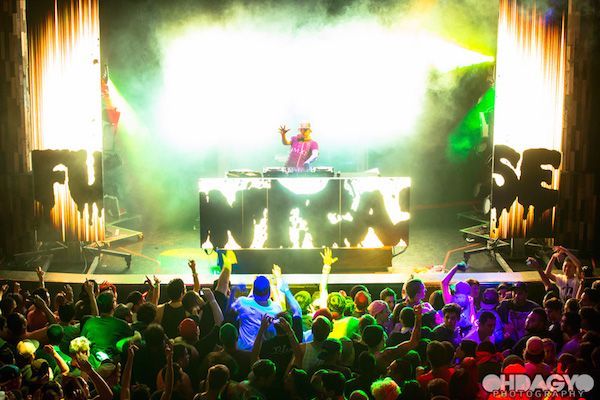 Joining Funtcase on the stage next Friday is equally legendary Austrian Drum & Bass duo, Camo & Krooked. With a whirl of original dancefloor anthems, like "Dusk To Dawn" and "Hot Pursuit", and a fearsome reputation for their untouchable skills, Camo & Krooked have DJed and produced themselves all the way to the top of the D&B food chain. To add to the list of bass music heavy hitters is young bass music blood, Dubloadz. After grabbing the attention of dubstep's most twisted fans with originals like "Fight Music (VIP)" and "Dangalang", Duloadz has proven himself to be one of the riddim movement's most ruthless golden boys. Offering a contrast to the brutality of Funtcase, Dubloadz, Camo & Krooked and Calyx & TeeBee on the lineup, are artists Kennedy Jones and LooKas, as their high-energy, bass-fueled, twerk-enducing versatility will slingshot the Palladium from 1 to "turn-up" in 10 seconds, flat.
Purchase tickets for Insomniac's Bassrush Massive here and get a taste of Friday's impending madness with Bassrush Massive's Hollywood Palladium teaser video below.