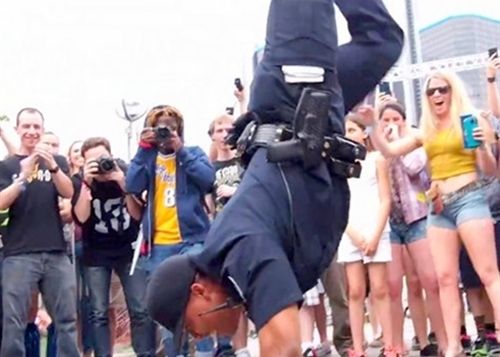 Considering they're not attending festivals for fun, it's no surprise that police officers and security guards are typically pretty serious over the course of events. There have been times when they have decided to get loose though, and it's always fantastic when it is caught on camera. Certain memorable moments happened at the Rainbow Serpent Music Fesival in Australia when a cop started to jam out in the middle of the crowd, at Ultra Music Festival when officers were on top of golf carts fist pumping to a deadmau5 set and now, Frederick Youngblood stole the show this Memorial Day Weekend at Detroit's Movement Electronic Music Festival.
The Detroit policeman brought out some serious b-boy moves and even went on stage at one point. He was invited during Hudson Mohawke's set to help hype the crowd up during the build up of a track. Youngblood spoke to the Detroit Free Press afterwards:
It was just to let the crowd know we support them and love them and they love us too. It's a great thing when the community and the police come together.
Have a look at Officer Frederick Youngblood breaking out some of his dancing skills and hyping up the crowd below.
Warrior Level – Detroit B-Boy Cop

Posted by Stanton Warriors on Tuesday, May 26, 2015
Source: Detroit Free Press