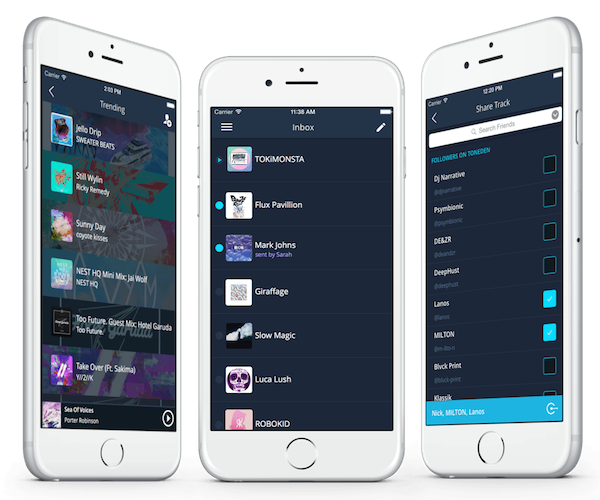 If you're an artist in the dance music community, chances are, you've heard of Toneden. It's a fantastic platform that utilizes Soundcloud uploads and transforms them into a gorgeous and unique web pages on the Toneden network. Everything from sharing tracks with fans and other producers, follow-to-download features (absolutely massive in an age where the amount of followers an artist has is a direct reflection of their success and/or quality, for better or for worse), as well as advanced metrics to help track growth. Plain and simple, Toneden helps artists grow.
That's exactly why their announcement of an app for Iphone devices is huge. Let's face it -everyone is on the move these days, especially artists. Being able to comfortably utilize all that Toneden has to offer via the simplicity of a mobile app is a game changer. In the face of massive streaming services failing miserably, the Toneden app is one that works off of an existing, stable platform (Soundcloud), and adds the ability to coherently interact with artists and friends and get music in front of you, that you actually care about listening to.
Needless to say, if you're a fan of dance music, you're going to want to install this today.

The Toneden mobile experience will center around the inbox, where users will receive music right when it is uploaded by artists they follow, or friends whose taste they trust. Every track comes with a personal message from the poster, giving every user a definitive reason of why this particular track is being shared. This simple feature cuts down on garbage uploads and reposts, and instead, focuses on quality material from trusted sources. Users will even be able to save the track for later listening, and share it to friends and followers, creating an interconnected network of material. The best part? All of these shares and plays re-route back to the artist's Soundcloud page, making it worthwhile for the artist in terms of the need to meet metrics standards.
In celebration of the release of Toneden Mobile, our homies at InDeep have also released a mixtape by upcoming DJ/producer, Christian Laurien. You can check out the mix below, or, download the Toneden app and find it there -it will be trending!