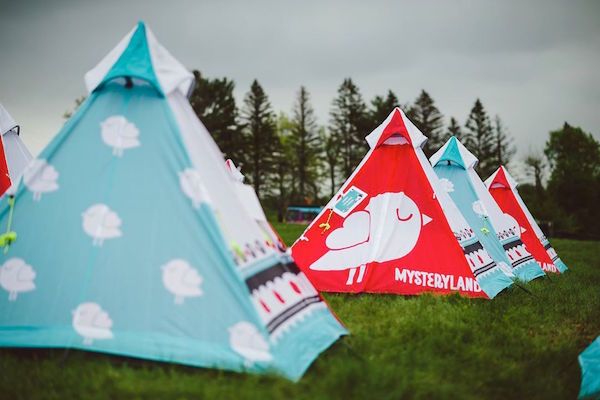 A good plan can sometimes be all it takes to have a positive festival experience. I say this with a grain of salt though. Despite meticulous coordination, it always seems impossible to execute whatever strategy we tell ourselves is going to work. Mysteryland USA returns to the sacred Bethel Woods festival grounds this Memorial Day weekend for 3 nights of camping chaos. Whether you're a camping veteran, or a festival noobie, surviving a long weekend at Mysteryland's Holy Grounds requires organization, execution, and endurance. (Showers are a luxury, not a necessity.) Here's a few basic bits of information to help you maximize your experience…
Camping basics. Festival ticket, photo ID, chap stick, cellphone, sun screen, bug spray, garbage bags, zip ties, duct tape, flash light and headlamp, batteries, scissors, lighter, gum, hair ties, health insurance card.
Bring some wheels. You're going to need more than just your car. Mysteryland USA doesn't let you park at your camping space. All the supplies and camping equipment you think you need to be comfortable has to somehow get from your vehicle to the campgrounds. This includes a walk through the woods, passing a security checkpoint, will-call, ticketing, and finally to the closest available plot. This thing will safe your life.
Lots of footwear. Last year's Mysteryland was held the weekend following record-setting rainfall in the upstate-New York area. There wasn't any actual rain during festival hours, but the ground was unbelievably saturated. Flip flops will break, shoelaces will shred, and socks will get muddied. If you buy a wagon, buy one with big wheels. Shopping carts aren't designed to be pushed over grass, hills, and dirt – it will tip over.
Make a checklist. I'm hoping you're already doing this, but in case it hadn't crossed your mind; make a checklist. Start a month before you leave and always be thinking of thinks to add. Make a list of whatever you need to buy and bring. Also, make a separate list of everything that you need to do the morning before you leave. You'll never remember anything that morning. You'll probably still forget something.
Cash cash cash. Mysteryland is a cashless festival, kind of. Don't make the mistake of converting all your spending money to Birdie Bucks. While Mysteryland vendors support the Birdie Bucks system, independent stalls might not. Additionally, Mysteryland's 2014 bracelet-scanning system wasn't working until halfway through Day 1. Keep some extra cash on hand because you never know what's going to happen.
USB battery pack. A few years ago, these would have cost too much to include here, but they've gone down in price significantly. The fireworks show at the end of the first day will likely destroy whatever is left of your phone's battery. Bring something to charge it with.
Drink water. Water at festivals used to cost $8 a bottle and people wouldn't drink any. Now they give it out for free and people still aren't staying hydrated. Regardless of whatever other recreational activities you choose to engage in, the sun is HOT – you need to stay hydrated. Drink water whenever you have the opportunity to, even if you aren't thirsty.
Pack a bandanna. You're going to be spending 3 straight days inhaling a combination of dirt, dust, dead grass, etc. Unless you want to spend the next 2 weeks blowing this stuff out of your nose, bring something to help cover your face in the more chaotic festival moments.
Lock your tent. Luggage locks are a cheap, simple way to secure your living space while you're exploring the world of Mysteryland. This isn't necessarily to keep your stuff safe. The last thing you want to find when you return to your tent is someone else sleeping in it. Mistakes happen. Bonus tip: Luggage lock keys are small and easy to lose. String yours through a piece of kandi to keep it secured around your wrist.
Have a plan, but be flexible. It's vital to find a healthy middle-ground between over-planning, and wingin' it. Set times are there for a reason, use them, but also allow yourself some leeway to explore and discover new things. Mysteryland is structured around 2 core days, pick a couple "must see" artists on each day, then let yourself wonder to other areas.
Wear clothes that make sense. Everyone likes to get dressed up, but don't minimize the value of a good-sized pocket. Average temps this time of year will range from the 40s – 60s. We would need a completely different formula in order to estimate the temperature inside of a tent. Prepare for anything. Buttons are awesome and zippers are God's gift to the raver. Nobody wants to be calling Lost & Found on Monday morning.
Don't lose your stuff forever. Collect your most valuable things; wallet & cell phone. Tape your address, phone number, twitter, instagram, snapchat, e-mail address, facebook link, kik, and linkedin information to the outside of your belongings. If you do lose something important, most people will be nice enough to try and get you your stuff back. It will most likely end up with the clean-up crew at the end of the night.
Update your emergency contacts, If you're traveling from California to New York for Mysteryland, you probably aren't bringing your parents – who are probably listed as your emergency contacts in your phone. Most people haven't updated this list, ever. Let's take mommy & daddy out, and put in the numbers of the friends you're traveling with. If something happens, and you need help, these are the people who are going to be there for you!
Buy a tent totem. Don't be the one who ends up sleeping in the grass because you couldn't find your camping plot. Find something like this, duct tape it to the top of your tent so that when the sun goes down, you can still find your way home.
Alternate forms of communication. Especially good for groups traveling in 2 or more cars. It's a long drive to Bethel, NY from anywhere. Walkie talkies are a much more effective way of talking to everyone than a group text on an iPhone.
Bring unopened items. Every festival has their own guidelines as far as what's allowed in and what's not. Almost always, the rule is that open things (cigarettes, gum, chap stick, feminine hygiene) aren't allowed it. Stop at a drugstore on your way into town and buy 3 of everything. Keep them closed, and security will hopefully give you the green light.
Don't expect to shower. Showers are available and they're effective, but that line… When that one DJ is about to go on and the line for the shower is going to take you 2 hours, what're you going to do? Pack some items such as baby wipes and baby powder to help you out in a jam. Don't be stinky.
Now that you got all that; remember to have a good time. You're not there to take pictures – stay in the moment. Have the best weekend of your life, and try to help the people around you to do the same. Fall in love with the friends you come with, and share the love with the friends you meet.