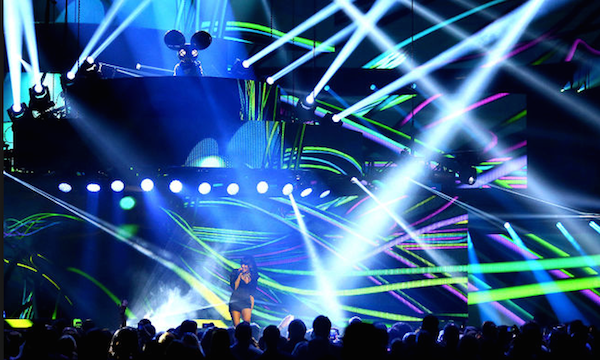 deadmau5 and Colleen D'Agostino together are a true collaborative powerhouse. The duo's hit single 'Seeya', which was a revised version of an instrumental track of deadmau5's 'Seeya Next Tuesday', was the last song on Mau5's 2014 album, while 1<2. The pair once again combined forces to produces D'Agostino's latest track 'Stay' that was released via mau5trap, and was recently performed live at the Canadian Juno Awards just this past Sunday.
Earlier this week, deadmau5 released a 'Drop the Poptart' revision of 'Stay' that amalgamates D'Agostino's whimsical vocals alongside the Canadian DJ/producer/troll sensation's signature progressive-house euphonies. The nine minute production encompasses the atmospheric lyrics of 'Stay', while giving prominence to Zimmerman's stylistic dark and eerie synth work production.
We're certain that this is not the last we'll hear from this dominant dyad. This edit of deadmau5's 'Drop the Poptart' featuring Colleen D'Agostino is available for your viewing and listening pleasure below.
In other exciting news, the duo has achieved one of the highest honors in Canadian music, as their hit single "Seeya" has gone platinum. Congrats to both deadmau5 and Colleen D'Agostino and we hope they continue to add to their trophy cases.
oh sweet…. "seeya" just went platinum. neato! @ColleenTM

— deadmau5 (@deadmau5) March 19, 2015
10$ says the plaque for Seeya gets mailed to @CalvinHarris

— deadmau5 (@deadmau5) March 20, 2015