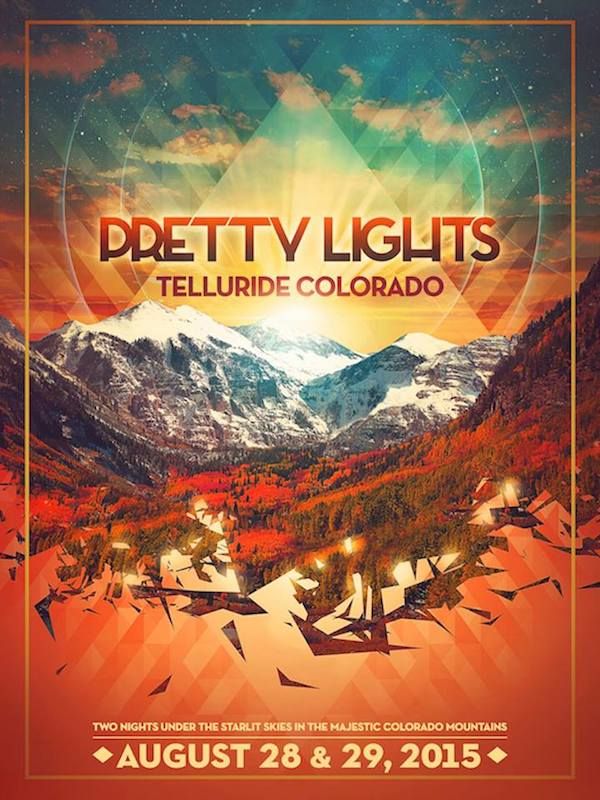 Derek Vincent Smith, professionally known by his stage name Pretty Lights just announced that he will be hosting a two-day festival in the town of Telluride, Colorado.
Smith has a widespread reputation for hosting lucrative concerts in his home state of Colorado. The exalted landscape of Telluride Town Park will provide the perfect atmospheric aura that will compliment Smiths stylistic multi-genre sound. The festival itself can be expected to cater to attendees much like that of any large-scale affair, which will take place on August 28th & 29th and will offer the option of general admission or VIP in addition to the option of on site camping. Multiple artists have also been scheduled to perform at the event, however details as to who are classified and yet to be disclosed. It goes without saying that with Pretty Lights as a secured headliner, it is assumed that impressive acts are sure to follow. The Pretty Lights Music proprietor explains how Telluride Town Park was the ideal location to host a concert because of its ebullient environment and dexterity to form a union between attendees:
"I've thought a lot about what a perfect place to throw a Pretty Lights concert might be, and what that actually means. I think that Telluride Town Park might be a place like that. The energy that resonates there is beyond the cusp of my own understanding but it is powerful and undeniable. I think that the seclusion of Telluride creates a real opening to focus on getting in touch…with each other, ourselves, and the vibrations we experience as music, light, and life."
Pre-sale tickets for the event have already sold out but more tickets will be available this Friday, February 27. For more details about the festival and to purchase tickets, see here. Until then, re-listen to Pretty Lights' A Colour Map Of The Sun below.