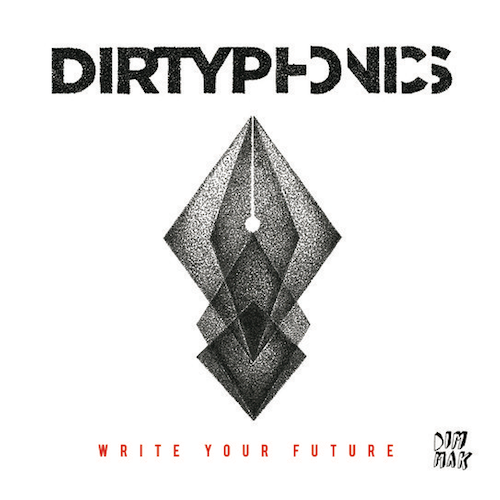 How do you like your bass music?  Loud, heavy, DIRTY?  If the answer is all three, you're in luck. Dirtyphonics will be dropping their new EP, Write Your Future, next Tuesday, February 17th and the four-track album is nothing short of exhilarating.  The genre-spanning album is the first release from Dirtyphonics to employ vocals on each song and each track explores a different universal theme.
Write Your Future kicks off full-force with "Power Now," featuring Matt Rose.  It's pure metal meets bass, a high-energy, unapologetic start to the album.
"Hustle Hard" is a relentless trap anthem, the result of a collaboration with mysterious producer ƱZ topped off with gritty lyrics by Trinidad Jame$.  "Free Fall" is the closest the album comes to mainstream EDM, a bass-heavy collaboration with 12th Planet that features vocals written and performed by Brooklyn's Julie Hardy.  Write Your Future comes full circle to close it down with another collaboration with Matt Rose, the emotional dNb release "Since You've Been Gone."
Last Monday night, Dim Mak hosted a listening party and a Q&A session with THUMP's Editor-in-Chief Zel McCarthy at Sonos Studio in Hollywood.  Collaborators Trinidad Jame$ and 12th Planet joined Charly and Pitchin onstage to field questions from McCarthy and the audience.  Then Dirtyphonics and Trinidad Jame$ turned up the volume with a live performance of "Hustle Hard."  Before it all went down, EDMTunes got the chance to chat with Charly and Pitchin about Write Your Future and their upcoming tour.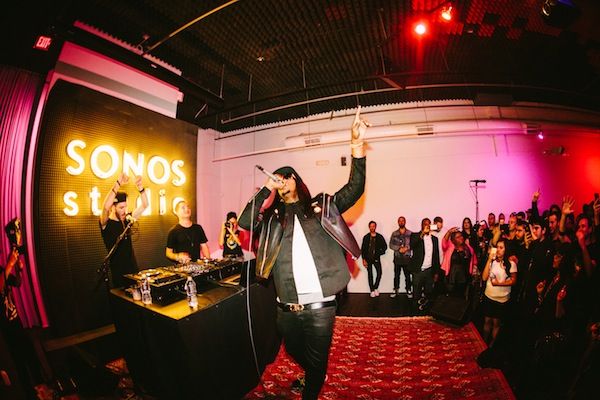 We're all looking forward to the live performance of "Hustle Hard" tonight. What's the story behind that track?
Charly: It actually started here in LA, we met up in the studio with ƱZ at 12th Planet's studio. We're just hanging out and talking and playing with some synths and some sort of song started to happen without [us] meaning to make a song. That's how it started.
Pitchin: You took the session on the road.
Charly: We kept writing it in Switzerland, that was a funny night [laughs].  We finished the song in Paris so it's a pretty international song. And then obviously TJ jumped on the track…
Pitchin: It was in Paris.  We were like we want somebody as a rapper not just an a cappella tweaking vocals, we want somebody on it, somebody serious, somebody who's going to take it to a different level.
Charly: And that's how TJ got in the mix. What he did was a perfect fit for the song.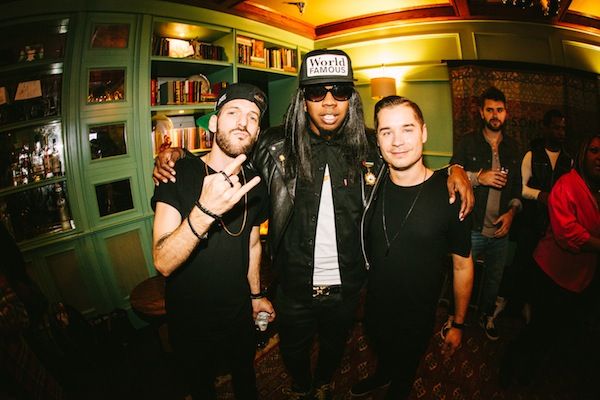 What's the meaning behind the album title, Write Your Future?
Charly: Well it's the very first time that we've worked so much with vocalists and we've wanted to have vocals on every single song. We felt that we're all in power of our future. You don't choose where you're from, you don't choose what happens in your life but you choose how you react and where you take your life in your future. So we really wanted to talk about how on every single song there are different themes, themes that everyone can relate to. Now having said that, however you're going to personally react to the song, you can choose to make it something. And that's what was really important for us, how you have your life in your hands.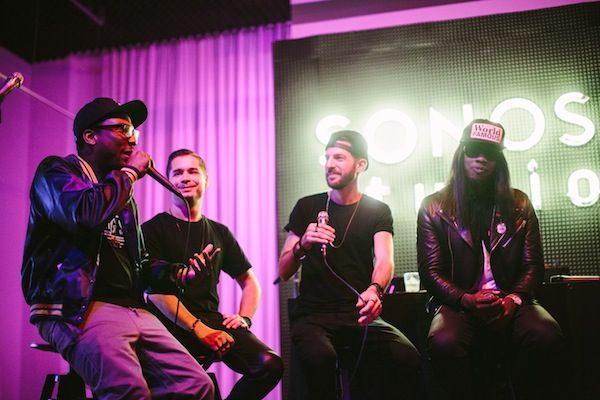 You've always been known for your high-energy live shows. What can fans expect to see during your upcoming tour?
Charly: The same energy for sure, the same thirst for partying and playing a lot of music. Obviously, we're going to be playing a lot of songs off of the new EP and all of the new things that we've been feeling at the moment.
Pitchin: As usual, no rules, just go hard and just play the music we feel like playing, it can be anything.
Charly: It also depends on the vibe of the night, depending on how the crowd reacts, the venue, whatever it is, anything can happen. It's a very fun show.
The Write Your Future EP will be out Tuesday, February 17th on Dim Mak Records.  Follow Dirtyphonics on SoundCloud and check out their upcoming tour schedule to party with the guys in person.
February 11th: Seattle, WA at Foundation
February 13th: Los Angeles, CA at Avalon
February 14th: Edmonton, AB at Frequency @ Shaw Conference Center
February 18th: San Francisco, CA at EPR
February 19th: Boston, MA at Venu
February 20th: New York, NY at Webster Hall
February 21st: Puerto Rico at Electric Daisy Carnival
February 24th: Salt Lake City, UT at The Complex (with Steve Aoki)
February 25th: Denver, CO at Ogden Theatre (with Steve Aoki)
February 26th: Kansas City, MO at Arvest Theatre (with Steve Aoki)
February 27th: Minneapolis, MN at Myth (with Steve Aoki)
February 28th: Chicago, IL at Aragon Ballroom (with Steve Aoki)
March 1st: Royal Oak, MI at Royal Oak Music Theatre (with Steve Aoki)
March 2nd: St. Louis, MO at The Pageant (with Steve Aoki)
March 12th: Santa Ana, CA at Yost Theater
April 3rd: Houston, TX at Kryptonite
April 10th: Philadelphia, PA at Soundgarden Hall
Photo Credit: Neil Favila