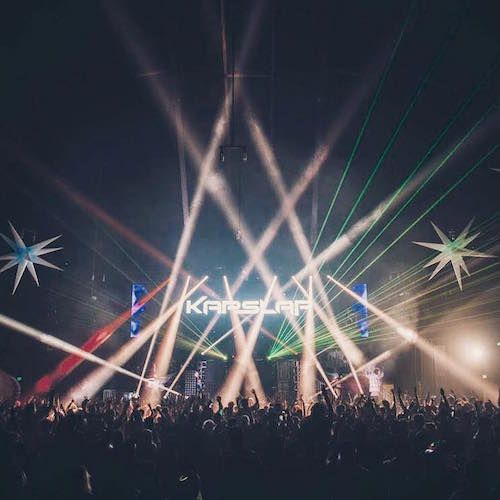 Ladies and gents, it's a big week for the dance music world. Festivals like Ultra Europe, Buku, and Spring Awakening have announced their lineups with great emixeception, and EDCLV's general admission has sold out in record time. Missy Elliott is making a return with that ballin' half time performance, and is rumored to be working with Skrillex and Diplo on a new project, and "Glow Headphones" are bringing a brighter future to the realm of audio consumption. These things are all well and good. This I think we can agree on. There's something much bigger though, at least to us, and that's the release of Jared Kap Slap Lucas' debut original title: 'Let it All Out'.
We say this is a big deal, because Kap Slap is one of those artists we've been watching since day one – literally. From his first mashup to first festival and headline tour, we've had the wonderful opportunity to observe the incredible growth of a true artist. To see an artist you pegged for future success finally hit it big is pretty special. We slotted Kap as our number 1 mashup artist back in 2013, and of his competitors he's easily grown the most. You can check out the track right below, but before we dig into it, we're going to dig into some history – we may have to whip out some handkerchiefs, the gushing is about to get real.
Kap Slap's venture into music wasn't a quest for fame or glory, it was an outlet for creativity. With a younger sister fighting cerebral palsy, and a mother fighting breast cancer, the young producer needed an outlet to channel his energy. Mashups are often looked down upon when it comes to producing because they don't feel entirely "original," but his ear for music lead him to create some of the most creative and inspiring mashups we've ever heard – and we're not alone, the foundation of his following is built off quality mashups.
Kap Slap effectively headed the mainstream mashup movement, and developed a movement that was fueled heavily by a college crowd. With 'Bootleg Packs', 'Bootie Bundles', and 'Back to School Mixes', he spread across the country into the ears of a young crowd that was eager to discover new tunes. What better way to discover new music quickly, than through mashups and mixes?
Now how many artists do you know who headed massive festival stages, an solely produced mashups? Not many. We were there for his first ever festival, Snowglobe, and listed him as an artist to watch after an insightful interview; post Snowglobe, he was being compared to the likes of 3Lau, and drawing inspiration from an artist you may of heard: Zedd.
"Zedd is by far the biggest [influence].  To me, he's a Mozart when it comes to electronic music.  The way he was able to bring the heavy complextro elements he was known for into mainstream radio is astonishing for me.  You also have Knife Party – how every single song they can put out is so crisp and clear, and still so in your face.  It's amazing."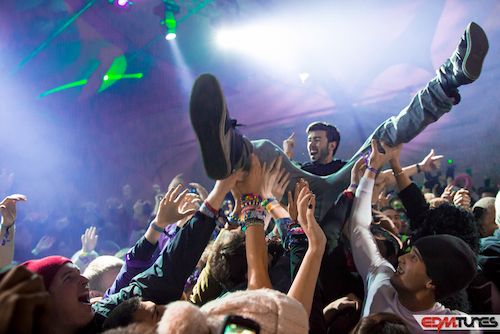 What you may not realize is, Kap Slap has been working hard in the studio on his originals since Snowglobe. He even played a snippet of em during that Snowglobe set. You may think that's an awfully long time to produce a track, or set of tracks, and it is. But in the scheme of things, it's no time at all, when you're trying to make it perfect. This a guy who's taken his time and put forth all he's got into his own music because he respects the craft and respects the scene; anyone can whip up something in a couple of weeks, or even days, and flood the system with the same old same old, but Kap wants to show the world he's capable of producing original creative content that's going to make waves.
"I know no one buys music anymore. I've released 50+ tracks all for free so I'm just asking my fans to throw $1 here on iTunes! This single has been two years in the making so I'm beyond excited to share it with the world"
His major headline Breakout tour is going strong, and there's no better time to drop his debut single. It is the 'Breakout Tour', after all. With some enlisted vocal help from Angelika Vee, 'Let it All Out' is a heart pounding, hair raising, spirit lifting progressive raver that's fit for any venue. Be it a festival or a club, a pool party or a warehouse, 'Let It All Out' is an anthem worthy of some air time. The intro is a beautiful vocal isolation that draws you in on an intimate level, and the kick drum quickly enters the picture to build the energy before the layered synth chords swell into a massive melody before the drop. The track isn't a one-drop pony either, with expert detailing and minute changes thrown in to give you some enjoyable variation. This is a debut single to be truly proud of, and our hats go off to you sir. Take a bow, because you've got us on our feet in an uproar of applause.
The funny part about this whole thing is, this is only the beginning. Now that he's released his first original, he's opened the door for many more. We're looking forward to what he's got in the bag. An EP or album perhaps? Only time will tell.
'Let it All Out' is out now on Ultra Records, and can be purchased on iTunes. For anything and everything you'd want to know about Kap Slap, be sure to like him Facebook, follow him on Twitter, and subscribe to his Soundcloud.