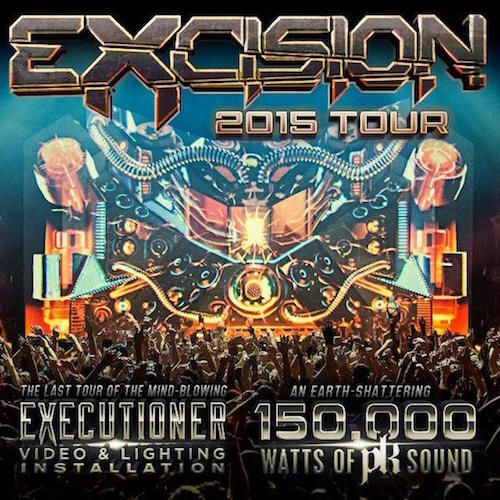 From pioneering the electronic bass music movement with his first release in 2007, to being one of the masterminds behind the first ever live dubstep group, Destroid, Excision has constantly proven himself as an unprecedented innovator. With a deviant, unapologetic, and extremely raw perspective on electronic music, the Ex man has accrued quite the reputation for himself as one of dubstep's 'no-fail' demi-gods. Aside from his explosive, industrial-inspired productions, Excision is known best for evolving the electronic music concert experiences forward and flipping it on its head. It all started with his annual earth-shattering live Shambhala series in 2008, which eventually led up to the conception of Destroid in 2013, and the creation of his game-changing tour rig, the Executioner.
Since 2013, Excision has been touring annually across North America with this Executioner stage. The Executioner is a 28 foot wide, 8 feet deep, 420 square foot rig with an angular surface that serves as a three-dimensional projection surface. With a dynamic video display, world-class 3D video-mapped animations and automatically synced audio and video features, Excision's Executioner serves as the perfect visual supplement to his insanely high energy DJing.
No dubstep show experience would be complete without world-class sound quality, either; to complete his mind-blowing Executioner rig, Excision teamed up with the auditory experts over at PK Sound to provide his show with massive amounts of power, 150,000 watts to be exact. With a world-class visual setup, floor shaking PK sound, and Excision's signature, full-throttle DJing style, this 2015 installment of the Executioner Tour is the only dubstep show you need to see this year. With each new innovation, Excision continues to solidify his legacy as a bass pioneer as he constantly changes the dubstep performance game and continues to leave concertgoers visually and auditorily satisfied.
Grab tickets for Excision's third and final Executioner Tour HERE.