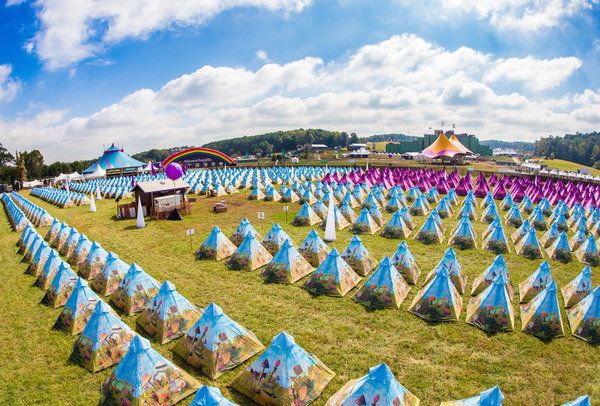 TomorrowWorld
has just released the recap video from last year's
DreamVille
experience, to give you the inside scoop on its outstanding festival camping offering. For those that don't know, DreamVille is the massive camping city adjacent from TomorrowWorld, and as the recap video shows, it has more than enough to offer to the people of Tomorrow.
Last year, DreamVille became the home of 40,000 festival attendees per night, over the course of the massive three day fest in Chattahoochee Hills, Georgia. The massive campground is spread across hundreds of acres of land flanked by lakes and nestled in the rolling hills of Georgia to create a mystical aura surrounding the grounds. Over the duration of the festival, DreamVille is also home to dozens of shops and food vendors for the festival attendees, in addition to being home to The Marketplace, where campers can access a bakery, salon, and many other amenities. Morning activities in DreamVille include yoga and workout classes in the campgrounds – perfect to help loosen up after a long day at TomorrowWorld. Campers have the option to bring their own tents, or choose from a plethora of other camping options, including Easy Tents – which are already sold out for 2015 – and Dream Lodging. Campers who make it down a day early to DreamVille participate in the annual "Gathering", a welcoming party which featured the likes of Dimitri Vegas & Like Mike, DVBBS, and Bixel Boys.
This year, TomorrowWorld will be taking place September 25-27, and DreamVille has sold out in 2013 and 2014, so don't sleep on securing your spot. Tier 1 prices are already 85% sold out – reserve your DreamVille camping spot now. Potential festival-goers can even check out the campgrounds beforehand with the 360-degree virtual tour.