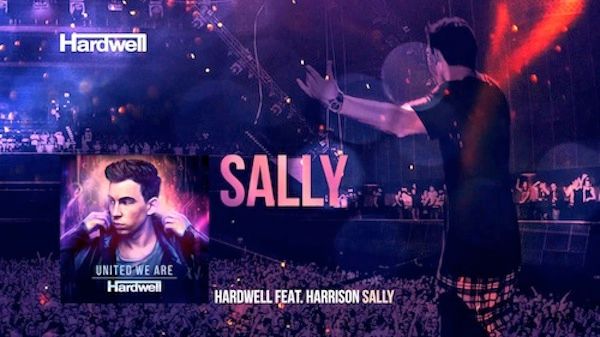 With all the hype surrounding Hardwell's upcoming album "United We Are," his recently released single is going to send publicity through the roof. "Sally," featuring the vocals of Harrison, is unlike anything Hardwell has released before. Similar to what Avicii did on his album "True," Hardwell's newest single blurs the lines between electronic music and rock. Avicii experienced tremendous commercial success from "True", as it appealed more to the mainstream by widening his target audience. It appears as if Hardwell is determined to do the same thing, as he looks to maintain his #1 DJ ranking.
In addition to the rock-electronic fusion, the track is notable for its rather crude vocals. Harrison, the talented British singer and songwriter, delivers the lyrics with a distinctive grungy sound. Harrison is no stranger to being featured on electronic tracks, as he supplied the vocals from David Guetta's hit, "Ain't A Party." He is a talented musician as well, recently releasing the soaring track, "Eden (Sunshine Adagio In D Minor)." He goes in a completely different direction on this track, however, as he sings about his sexual relationship with a girl who has a boyfriend. He uses distasteful and provocative lyrics such as, "She's a dirty bitch and a daddy's witch," "If her boyfriend knew what she makes me do I'd be down, down, down" and "No one can find out that I've been fucking Sally." The track seems like a clear step backward for both Hardwell and Harrison musically.
While some might be surprised at the Borgore-esque direction Hardwell took with his lyrics, the tone of them is not without precedent. Hardwell made waves early in 2014 when he responded harshly to a critic of his on Facebook. When someone commented that Armin van Buuren is a far superior DJ and Hardwell plays precorded sets, he received Hardwell's verbal wrath.
"Thanks for the compliment, if you think I played a prerecorded set, you basicly mean I mixed flawless. The only think I recorded was the afterparty with your sister. Have a great day!"
With the combination of the song's notably crude lyrics and electronic-rock fusion, the track should generate significant publicity for his upcoming album release. Hardwell also announced that he will premiere three new tracks from his album today on Hardwell On Air 200. The album drops January 23rd, so be sure to check it out when it comes out.