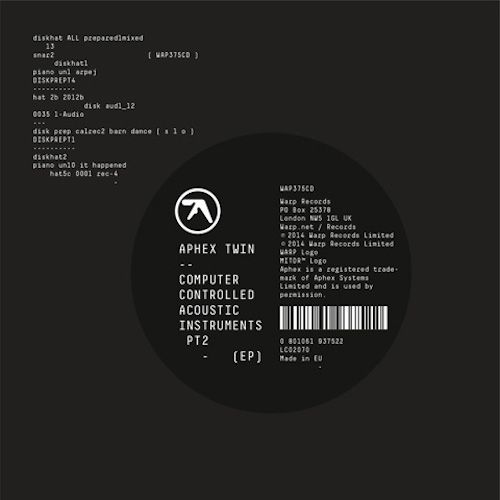 Aphex Twin, has announced by way of Warp Records that Computer Controlled Acoustic Instruments Pt 2 is set to be released on January 23rd, 2015. The 13-track EP from James is easily articulable (insert sarcastic tone here) and features tracks such as, 'piano un1 arpej', and will be available as both a CD and download.
The EP is subsequent to the 2014 release of Syro which was the sixth studio album from Aphex Twin – a thirteen year gap from the 2001 release of Drukqs. Syro amalgamated a plethora of sub-genres such as techno, jungle and ambient, and consequently received eulogizing appraisal from critics, secured positions on several international charts and was also nominated for two awards: Best Dance/Electronic Album at the Grammy's in addition to the Choice Music Prize.
Disclosure of information surrounding the EP and its release has been quite limited only heightening the anticipation for its January 23rd release date, however Warp Records has provided the cover art for the EP which includes the track list and may be found below. Check in with us for updated information as we eagerly await the release of Computer Controlled Acoustic Instruments Pt 2.
Computer Controlled Acoustic Instruments Pt2 Tracklist:
01. diskhat ALL prepared1mixed 13
02. snar2( WAP375CD )
03. diskhat1
04. piano un1 arpej
05. DISKPREPT4
– – – – – – – – – –
06. hat 2b 2012b
07. disk aud1_12
08. 0035 1-Audio
– – – –
09. disk prep calrec2 barn dance ( s l o )
10. DISKPREPT1
– – – – – – – – – –
11. diskhat2
12. piano un10 it happened
13. hat5c 0001 rec-4