Hailing from the Netherlands, Yellow Claw's international expansion and subsequent success came quickly. After grinding the Amsterdam club circuit and climbing the Dutch and Belgian charts in 2012, the trio signed to Diplo's Mad Decent in 2013 and released their first international EP, "Amsterdam Twerk Music." Yellow Claw, made up of Bizzey, Jim, and Nizzle, rapidly became a buzz-worthy name in EDM, appearing on Diplo and Friends and main stages around the world. After signing to Spinnin' Records, Yellow Claw dropped their first international single, " Shotgun." Bolstered by the success of their single, the group fully embraced the American market.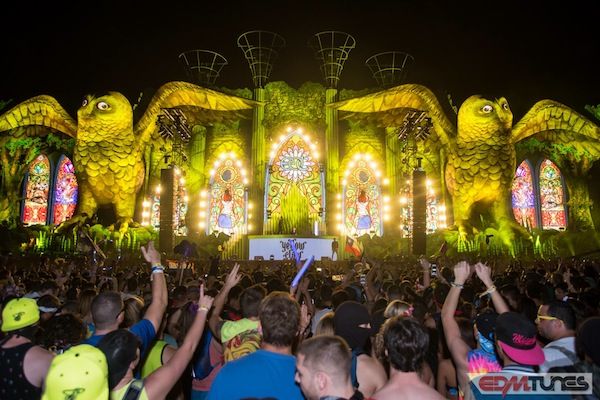 This November, Yellow Claw rocked the Electric Daisy Carnival Orlando main stage with their unique blend of genres. They delivered a slew of their own tracks from Mad Decent and Spinnin', as well as some of their immensely popular remixes (like their take on Iggy Azalea's "
Fancy
"). Front and center were the trap drops and Dutch-inspired big room build ups that Yellow Claw has come to be known for. In fact, it seems like the trio prefer to not be pegged as a one-genre act. When I sat down with them at EDC, they expressed boredom with the cliché and unoriginal music they were inundated with while playing shows in Amsterdam.
Bizzey: We got started throwing our own parties in Amsterdam and we were just sick of all the DJ's playing the same stuff like all 128BPM, that's like the only sound we heard, we played hip-hop instrumentals. We got sick of that too, so we just made our own sh*t and it turned out to be absolutely incredible.
Yellow Claw's recent success and fresh sound have opened the door to several high profile collaborations, like their track "No Flex Zone" with Yung Felix (using samples from Rae Sremmurd's original song). Very recently, Yellow Claw cut a track with Diplo, LNY TNZ, and Waka Flocka Flame called "Techno." The video for the song chronicles a young woman attending a concert, taking drugs, and ultimately dying. Drugs and EDM have been a hot topic for some time now, and it seems everyone has an opinion on the subject, Yellow Claw included.
Bizzey: I've never connected partying with drugs, or anything like that. We're from Amsterdam, we come in contact with all that stuff, but abusing drugs or anything like that and doing too much is never good.

Jim: It's about awareness of what it is. That's the whole difference between the States and Europe; in Europe I think there's an equal amount of drug users, but everybody is kind of…it's a subject that is being talked about in schools, at parties. It's something that is way more in the open and there's way more information about it so people actually know what they're doing with the drugs. We've been coming here [The United Stated] and have noticed, "Whoa, these kids are doing all kinds of drugs." There's no information about it. If you want to do drugs, do drugs and if you want to jump off a cliff, jump off a cliff; its your life, you know. Over here, especially, its come to a certain point that you cant ignore. The drugs aren't the problem the problem is education.

Nizzle: Just recently, we were in Seattle, where the party didn't even come true, it was canceled because of a drug related incident. It was a big a** festival in Seattle.

Jim: If you make a music video, it's a chance to say something, to speak up about it.
Alongside such success, also comes the opportunity to undertake new and interesting ventures as artists. While most DJ's have t-shits in their merch booth you can buy, Yellow Claw was dissatisfied with these rather rudimentary designs and they did something about it. After partnering with Daily Mail, an Amsterdam based clothing company, they released their Blood For Mercy capsule collection. The line allows fans to support the DJ's while donning something a little more fashionable than your standard shirt with a logo.
Nizzle: Basically all the merchandise that has been around for ages, is all super whack and it's like always the same, it's always a t-shirt with a logo. We met up with the guys from Daily Paper, they're young guys from Amsterdam, and they have a really grown up clothing collection. We met up with those guys and just started drawing and sketching. Really, with the music, what are we missing? What are we missing in the shops? Basically, that turned out to be one hell of a collection.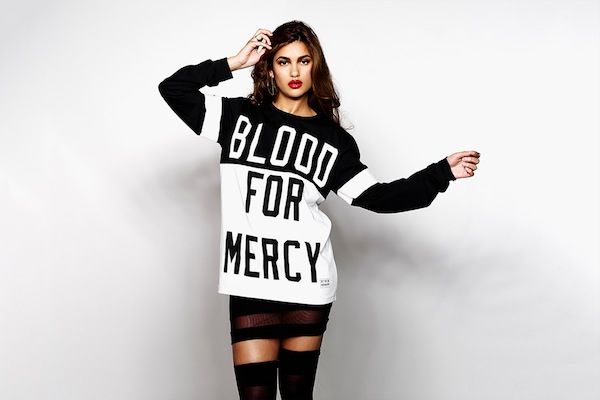 Not ones to rest on their laurels, in addition to a hectic live-touring schedule and a successful clothing line, Yellow Claw runs their own record label, Barong Family, with Spinnin' Records. Formed in mid-2014, Barong Family is already proven to be a strong boutique label with formidable artists like Wiwek, Young Felix, and Mighty Fools in their roster. Fans have eagerly eaten up any Barong releases that come their way, and I had to ask Yellow Claw, "what can we expect from the label in the near future?"
Bizzey: A lot. Guys like Wiwek but also guys we've already worked with, like Yung Felix. We're going to drop some stuff for sale, a new EP, releases, free stuff, whatever.

Nizzle: Just expanding the family. Theres a Cesqeaux EP coming out, theres a whole bunch of new stuff.
A highlight of the group's EDC set was the inclusion of the tracks from their recently released EP, "Legends", alongside Cesqeaux. Another Netherlands-bred prodigy, Cesqeaux's star is rising steadily alongside Yellowclaw. An EP consisting of entirely collaborations between two talented and innovative new comers isn't exactly common, but Yellowclaw explained how and why the EP came to be.
Jim: That EP actually just happened out of pure friendship. I think over the year just a bunch of sessions intro'd [us]. Somewhere between hanging out, grabbing dinner, and going into the studio, no real pressure and no real topics or anything just stuff we made and in the end there was a couple of good songs and we decided to finish them up and get them on an EP. We had a lucky shot there with Dim Mak, which was great. It was cool because we got to put some light on Cesqeaux, because he's up and coming, and it's good stuff.
Just as their Dutch roots can be seen in their music, Yellow Claw's work ethic harkens back to their time in Amsterdam, pounding the pavement in the club circuit. Between an EP release, a single dropping, and a main stage festival performance in just a few short weeks no one would blame the three DJ's for wanting to take a break, but they expressed no interest in slowing down. Fans should look forward to the "Blood for Mercy" album in 2015.
Bizzey: We're working on the album now: Blood For Mercy.

Nizzle: All the stuff that came out recently, we did way back. For months and months now, we're not doing any remixes, any side projects. It's just working on the album. We're like 6, 7, or 8 tracks deep into the album and it's going really good, it's really coming together.