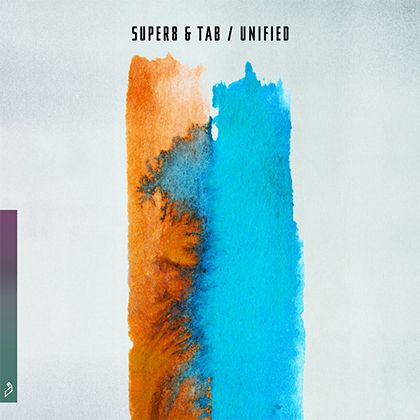 As longstanding members of the Anjunabeats family, Finnish-duo Super8 (Miika) & Tab (Janne) continue to produce music of absolutely incredible caliber, and their new album Unified is no exception. And though this album is a product of years and years of conscious, focused effort, a large part of both Super8 & Tab's careers as nascent DJs was out of pure serendipity.
Where does the name Super8 & Tab come from?
Super8: In 2001, I did a project for Anjunabeats with Paavo called Aalto. It was the time of vinyls and they needed a remix for the B-side, so I said, 'Okay, I'm going to do a remix'. James Grant called me at 9pm one day and said, 'We are going to print the vinyl tomorrow, I need a name for the remix.' I was watching a documentary about Super8 film format, and so I said, 'Uhmm, let's go with Super8.'

Tab: I started to DJ with my nickname Tapi; my friends gave me the name when I was 5-years-old, but I don't know where it came from, it's not even close my real name. I DJed with the Tapi name for quite some time. I was playing at my friend's illegal after party one night, and I looked at the flier which said 'Tab.' And then I played at another party and it said 'Tab' again, so I asked, 'Why is it not Tapi?' And they said, 'Tapi is not that cool, Tab is way cooler.'
How did y'all meet and become Super8 & Tab?
Tab: We were both working at a studio in Helsinki, but in different rooms and releasing solo projects on Anjunabeats. One day we just talked and said, why don't we do something together because we both work in the same studio and release on Anjunabeats. So we locked ourselves in the basement and started working, and our first track was born. We said, 'Something's going on maybe we need to do another track,' so we produced 'Helsinki Scorchin'…then the rest is history.
Teasing the musical fancies of fans everywhere with 'No Frontiers' and 'Let Go' on Above & Beyond's Group Therapy, Super8 & Tab have conceived a stunning feat of artistic dexterity, range, and innovation with Unified, and are hand-delivering the experience to lucky listeners on their tour. The album alone is a story infiltrated with a wide menagerie of tempos, emotions, and levels of energy, but boy, their live three-hour sets take fans to a whole other level – Anjunaheaven-level to be exact. Weaving in nostalgic throwbacks, heart-wrenching mixups of Anjuna favorites, and Unified new releases, the duo takes the audience on a rollercoaster of emotion ranging from uncontrollable dancing rage during "Rubicon" to  impassioned tears of emotion with "You Gotta Go."
What was the inspiration for the new album Unified?
Super8: Inspiration is always through music, but if it was just music, we'd be releasing singles. Albums have different kinds of challenges, but also different possibilities because you can work with slow tempo tracks, and tracks that aren't necessarily in club format. Somehow doing albums fits us. With albums you need to think about the whole thing and how tracks go together to make one album.

Tab: You learn quite a lot during the process, you produce different kinds of music so there's a learning curve as well.
How long did Unified take to produce from start to finish?
Tab: We actually started during the Empire album, or right after in 2010.

Super8: Some of the ideas were written – not the actual tracks – right after Empire was finished, but the last year and a half has really been the push to finish the complete package.
How do you think you've grown as producers since your last studio album release Empire in 2010?
Tab: There's new software that comes out and lots of new tricks, but from the inside, the core has been always the same. Super8 & Tab kind of thing. For me, all our tracks our different – we don't copy over from track to track. We don't want to be in a box. We like to have tracks that we can play early or late in the show, and we can build a flow with all our songs. Not just all at 138, or 130.

Super8: New technology gives you new possibilities, but you need to learn how to use those possibilities. And music is changing, and we want to have changes as well – we always have. Since 'Helsinki Scorchin', everyone was doing 138 – and we said no, we are going to do uplifting progressive. We always want to boost the boundaries and challenge ourselves in music making.
My two favorites songs are Sonata and Rubicon, what are y'all's favorite tracks on Unified?
Tab: We get this question a lot but its hard to say. Sometimes you like 'Rubicon' and 'No Frontiers', sometimes 'Let Go'..or maybe 'Patient'. Like Miika was saying it depends on the time and place.

Super8: Different tracks on different days and different times. But 'Rubicon', when it was almost finished, I was already like, 'MMmmm ME LIKE!' But the same thing with 'No Frontiers'.
The new album with no doubt does justice to showcase Super8 & Tab's indisputable talent, but you'll have to trust me on this one, see them live. Working to represented the the revered Anjunabeats name music fans hold so dear, Super8 & Tab are both passionate performers honest with the music they deliver in this capricious industry, and a duo destined to push the boundaries with their ingenuity.
Do Tony, Paavo, and Jono play a large part in giving you feedback about your music?
Super8: Paavo is our A&R – artist and something…basically our contact person. He's the one we send our early demos to and he says, 'Oh, this is shit' or 'Oh, this is good' or 'Oh, maybe you should try something like this.'

Tab: We've been with Anjunabeats since day one, and we've grown with the label. When we started, the guys were very hands on, so they are really close with us and it's easy to talk with them and get feedback. So they have a lot of influences on us.
What does it mean to y'all to be Anjunabeats artists?
Super8: It means a lot. We've been there a long time. We have grown with Anjunabeats, so it's home. It's family.

Tab: It's amazing to see how this label has grown since the beginning. When you travel around the world you see the Anjunabeats family, the banners, the shirts, and 'Small Moments Like This' signs. You feel that Anjunabeats is all around. It's good to be part of that. Definitely.