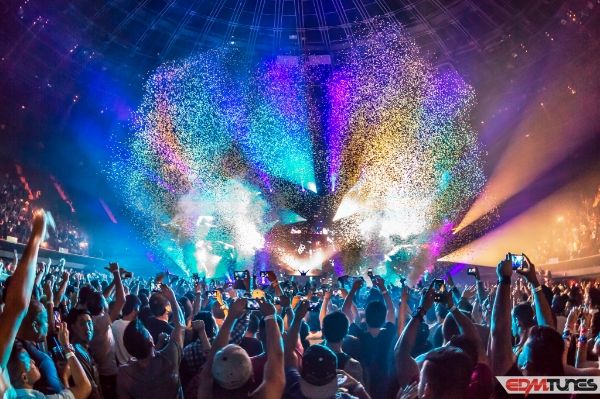 Madison Square Garden
is a home of historic heartwarming victories and performances. Anyone who claims the spotlight of the arena is given the chance to make history. DJ Mag's reigning #1 DJ in the world,
Hardwell
, was given the opportunity to do so. At only 26 years old, he has accomplished more than most successful artists will accomplish in their lifetime. Moreover, he announced well beforehand that he'd be performing for three hours. Typical headlining DJ sets these days clock in around an hour and a half. With double the amount of time to work with, I, along with nearly 20,000 others in the landmark arena were curious to see how it would play out.
Hardwell's go-to artist Dannic warmed up the crowd from 8pm to 9pm as the crowd quickly piled in. The hour hand struck 9, and suddenly, all eyes were on the man of the night. The night itself was somewhat of a blur. Throughout the show, I took a couple pictures, videos and jotted down a few notes. When I sat at my computer the morning after, I realized that the entire performance was still sinking in for me. For the remainder of the day, moments of the show popped into my head that gave me a greater appreciation for Hardwell's performance. After digesting his performance in full and sorting out my thoughts, I now am ready to provide a proper review of his set.

He had a no-rules set. He played what he wanted to play and mixed how he wanted to mix. He was the one on the stage; therefore, he was the one calling the shots. He was not simply playing records one after another, he was making a statement to 20,000 people watching him. Every record he played and how he mixed each record had a purpose. One thing people have to remember is that he is not just a DJ and producer, he is a businessman. As the head of Revealed Recordings, he has had fair share of thoughts on how the electronic dance music scene has developed. He has picked up on what people are listening to, what DJs are playing and how they are playing them.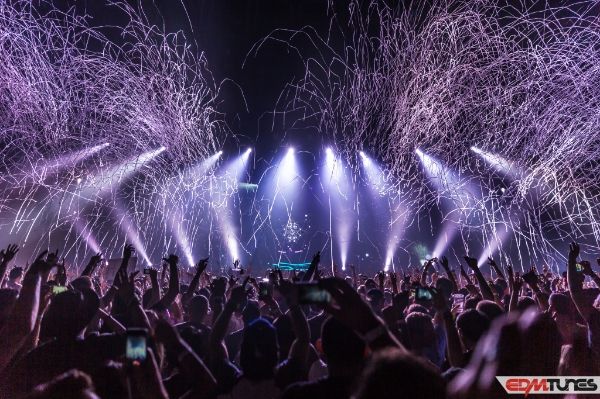 One aspect of Hardwell's performance that slowly unraveled and simmered in my mind over the weekend was how he mixed between records. I noticed a lot of mixing between intros and outros. My initial thought was laziness. Recalling the list of previous DJ sets I've witnessed, I noticed many DJs would play drop after drop, leaving little room to breathe. The structure was: build, drop, build, drop, build, drop, etc. My mind was accustomed to that experience dominated by constant energy. My initial disconnection with Hardwell's set was his rather simple, yet unique mixing structure. He utilized the outros of songs and he accentuated the euphoric verses of songs. All of the sudden, it wasn't about the drop anymore. Yes, Hardwell still planted hard-hitting and explosive big room drops on every attendees soul, but he was more focused on the journey of reaching each song's climax.
When you're performing in front of such a massive and formidable crowd at Madison Square Garden, the thought of creating magic through music in such a large space seems like an impossible task. Having to connect with every fan on a much deeper level than the surface requires an intangible energy that goes beyond science. It's that spark, that unspoken human wavelength of touching bliss that inexplicably rejuvenates one's body. This moment of beauty sparked when Hardwell played his song 'Dare You' featuring Matthew Koma.
Every individual soul in the arena joined as one, inhaling and exhaling the same breath. Everyone scintillated with the same pure and positive aura. Whether it was organic timing of the song, the songs he had played before, or perhaps the genuine beauty of the song itself, Hardwell was able to singlehandedly create something so much greater than himself and everyone else in the arena.
As far as music selection goes, he played a little bit of everything from 'Heroes' by Alesso to Steve Aoki's remix of 'Pursuit of Happiness' to his unreleased collaboration, 'Don't Stop The Madness' (rumored title) with W&W and Fat Man Scoop. In the world of mashups, Hardwell outdid himself, mashing 'Pendulum' with 'Kontiki' and 'Reload', along with mashing 'Alive' by Empire of the Sun and 'The Code' by W&W and Ummet Ozcan. His performance, along with the energy of the crowd, exponentially grew throughout his 3-hour set. During those hours, Hardwell proudly demonstrated that it is not about the destination, but rather the journey.