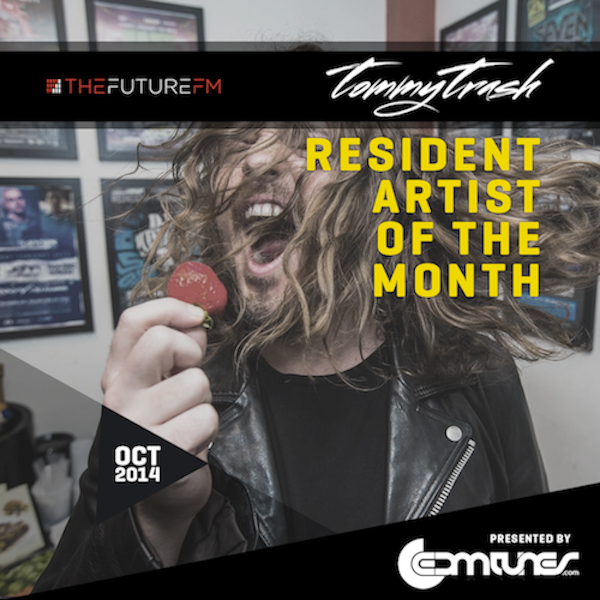 There is no denying that mixes are becoming one of the most popular ways to listen to songs in the dance music community. Whether your poison is live sets, podcasts or radio shows, knowing that your favorite DJs have handpicked the tracks that you're listening to is one satisfying feeling. Thanks to The Future FM, all of these fantastic mixes can be found in one place, allowing listeners to choose from a variety of artists, genres and lengths to best suit their current mood.
Tommy Trash is one of those artists whose mixes can be found on the website and he also just so happens to be The Future FM's 'Resident Artist of the Month' for October 2014. While it would be fun to check out his own mixes, we thought it would be better to get Tommy to tell us who his top 5 up and coming artists so we can take a listen to their latest mixes. During his exclusive interview with us, Tommy says he likes his mixes to "to have some sense of a narrative that takes the listener on a bit of a journey" and that "variety is very important". That being said, we think the mixes from these 5 up and coming artists truly exemplify those characteristics.
To kick things off, we have a mix coming from one of the hottest young guns in electronic music. Pierce Fulton shows us that his productions, like his latest work 'Kuaga', are not the only thing that deserve attention, as this mix featuring the likes of Arty, DJ Snake and Dyro will leave you begging for more.
It was only 4 short months ago that we included him on our list of '13 Canadian Producers You Need to Familiarize Yourself With' and ever since then, the sky has been the limit for SNAILS. To celebrate his first time touring America, SNAILS presented us with this mix that features a bunch of exclusives as well as a few remixes of his hit song 'Wild'.
Now that we have reached the halfway point of the list, we figured there was no better time to present you with a chill mix from none other than Bixel Boys. The Los Angeles duo's fresh sound (and clothing) is currently taking the industry by storm and this mix will show you why the underground is back and better than ever.
Next is a genre-defying mix that will keep listeners on the edge of their seats courtesy of Milo & Otis. Their 'Artists of Tomorrow' mix features electro, trap, big room and hip-hop songs from some of the biggest names in the game and they guys intertwine them in a way that makes you feel like you are right there at one of their shows. No wonder Skrillex and Kill The Noise chose to bring them on tour with them.
Last, but certainly not least, we have a mix from Tommy Trash's current tour buddy Wax Motif. The two have collaborated on their upcoming track 'Hex', but with a little help from fellow 'Trashed Tour' artist Henry Fong, the trio created a mix that will give listeners a little taste of what their show is like. With tracks from the likes of Knife Party, Tchami and Alex Metric, this mix features a little something for everyone.